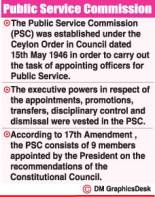 Kelum Bandara
The Cabinet and the Public Service Commission (PSC) are on a collision course over the government's decision to absorb acting principals with required educational and professional qualifications into the permanent cadre, informed sources said yesterday.
The situation took a turn for the worse on Wednesday with President Mahinda Rajapaksa even vowing to haul the PSC before the Cabinet.

Recently, the Cabinet appointed a sub-committee comprising Education Minister Bandula Gunawardane, Water Supply Minister Dinesh Gunawardane and Petroleum Minister Susil Premajayantha to study the longstanding demands of some 4,000 acting principals.
The sub-committee recommended that those with required qualifications be absorbed into the permanent cadre after evaluating their performance as acting principals. However, the PSC has refused to abide by this recommendation citing technical reasons.
The issue was taken up at Wednesday's Cabinet meeting, where some ministers raised concerns about the difficulties they faced when dealing with the PSC in appointing officials at their ministries.
President Rajapaksa said the PSC was answerable to the Cabinet under the 18th Amendment to the Constitution and was reported to have vowed to summon PSC members before the Cabinet soon.
"Then, all of you can direct questions at these officials," he told the ministers and referred to the incident where Minister Rajitha Senaratne's wife had issues with the PSC when she applied for the post of National Hospital director. The PSC and other independent commissions were established under the 17th Amendment of 2001 to make appointments to the public service devoid of political influence. The members to these commissions were appointed by the Constitutional Council which comprised members nominated by the parties that were represented in parliament at that time.
However, the 18th Amendment to the Constitution enacted on September 8 last year provides for the appointment of members to the PSC by the parliamentary council comprising the Speaker, the Opposition Leader and his nominee, and the Prime Minister and his nominee.
When contacted by Daily Mirror, Minister Gunawardane said these acting principals did a great service by working at schools in areas vulnerable to terrorist threats.
"They looked after the schools in the north and the east. It is difficult to run the education sector with the PSC. If these principals boycott work as a mark of protest, I will ask the PSC to look after these schools," he said angrily.
Attempts to reach the PSC for comments in this regard failed.