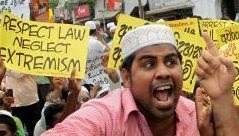 SL Muslims protest
"This orchestrated attack on Muslim places of worship is not a yardstick to measure the strength of the Muslim-Buddhist bond. A true Sinhala Buddhist will not ever support these attempts, defying the teaching of Gautama the Buddha. These attempts and attacks are not against the Muslims but are attacks against the sovereignty of the state, when the focus of the whole world is on us. You cannot sit on the fence any longer. "
Letter To The President On Demolishing 65 Year Old Dambulla Mosque
By Azath Salley
His Excellency Mahinda Rajapaksa
President of the Democratic, Socialist Republic of Sri Lanka
Presidential Secretariat, Colombo.
Your Excellency
Attempts to demolish the Mosque in Dambulla
The initial attempt at bringing down the 65 year old mosque initiated by a so called hidden hand continues to haunt your regime.
You will remember that I brought this to your notice the day prior to this incident and failed to receive any response from you, until a senior minister in your government confirmed that the mosque in question was indeed 65 years old.
In the ensuing drama and at a general meeting you assured the Muslim community that the mosque at Dambulla will not be touched.
Despite your assurance and proclamation and at a time when the whole Muslim world has stood behind you, you have failed to live up to your assurances.
You are fully aware that this mosque has been in existence since 1964 and built with the support of the people of the area and the Viharadhipathy, the Chief Incumbent of the historic Dambulla Rajamahavihara.
Your Excellency, Buddhist –Muslim relations in Sri Lanka you are aware, is more than ten centuries old. A bond that withstood 500 years of colonial rule, the post colonial period and beyond. We did not succumb to the divide and rule politics of the colonial powers and we distinctly identified those who are alien from our countrymen. That is the reason why we did not succumb to the colonial masters and therefore bore the brunt of suffering with the majority Buddhists during the colonial period.
You will agree that Buddhist –Muslim relationship is not built on opportunities or marriages of convenience but of sincere understanding and goodwill, time tested by centuries of coexistence.
This is the reason why we stood as a buffer against the division of the country in spite of the bulk of us being Tamil speaking. That is why got battered and butchered by the LTTE when we were praying in the mosques and still, more than 100,000 Muslim IDPs are living in squalid conditions and are deprived of their livelihood and domicile.
This orchestrated attack on Muslim places of worship is not a yardstick to measure the strength of the Muslim-Buddhist bond. A true Sinhala Buddhist will not ever support these attempts, defying the teaching of Gautama the Buddha.
These attempts and attacks are not against the Muslims but are attacks against the sovereignty of the state, when the focus of the whole world is on us.
You cannot sit on the fence any longer.
I urge you to take this into your hand and bring these incidents under control failing which, you will be forced to contend with a country where all the communities who are a numerical minority will be asking for international intervention to a problem which is being created by extremist elements within us.
Thank you
Yours Sincerely
M.Azath S. Salley
Leader – National Unity Alliance
Member – Central Provincial Council
7th May 2014