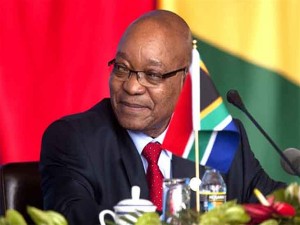 Jacob Zuma

The Sri Lankan government has shown interest in learning more about the Truth and Reconciliation Commission of South Africa and its process and the outcome.The interest was shown when President of South Africa Jacob Zuma, who is now in Colombo to attend the Commonwealth Heads of Government Meeting (CHOGM) 2013 met with President Mahinda Rajapaksa, the President's office said.

President Zuma while thanking Sri Lanka and President Rajapaksa for organizing CHOGM 2013 so well conveyed South Africa's willingness to improve and expand the already existing good bilateral relations.
"Developed countries have their own views on affairs of other countries. However, we need to look at things for ourselves before coming to conclusions", President Zuma said. While welcoming President Rajapaksa's idea of learning more about the Truth Commission, he pointed out that exchange of delegations between the two countries is needed to facilitate the process.
Referring to the nearly 30 years of terrorist war, President Rajapaksa said that there were killings and destruction almost every day during the period. "Even all Tamil politicians and intellectuals were killed by the LTTE", the President recalled. "With the end of the conflict no terrorist-related incident was reported during the past four years," he observed. (Colombo Gazette)