[Mauri Inoka Jayasinghe, BBC photo]
Mauri Inoka Jayasinghe, a mother who has been fighting for accountability and justice for her abducted and disappeared husband, Madushka Haris de Silva was herself abducted on last Saturday the 1st November in Anuradhapuru town. After threatening she not to campaign on behalf of her husband Madushka if she wants to live, abductors dropped her in Nochchiyagama some 30 KM away.
Inoka is a mother of twin sons aged one year.
She was abducted around 5.30 PM and dropped after one and half hour. She was abducted by a three wheel driver and some other person, who gave commands. She was blind folded and a pistol was pushed in to her neck to salience her in the vehicle.
After some time she was transferred to a van.
She was threatened with pistol aimed at her head and abductors repeated that she has to obey their warnings if she does not want to go the see her disappeared husband.
The abductors threatened Mauri saying that '' you talk too much. It is up to you to decide whether you want to live or die. Although you are climbing on to stages we will not allow you to go far away. Stop looking for your husband''
'I was very afraid that if I will be killed what would happened to by twin sons.'' says Mauri. ''Those who abducted me looked like from security forces.'' She adds.
Ten minutes after she was dropped by the abductors, Nochchiyagama police arrived at the scene and took her to the Police. Mauri told BBC Sinhala service that police treated her as a sex worker and shouted at her with filthy language.
Once taken to the Nochchiyagama police she was questioned for several hours and a statement from her was recorded. After that she was sent to Nochchiyagama hospital and then was transferred to Anuradapura teaching hospital.
She was checked by the JMO next morning at about 11 am and was released.
Mayri's husband was abducted along with two of his friends, on 2nd September 2013. His two friends returned, yet Madushka never came back. Since then Mauri has been in forefront of the struggle to find her husband.
Soon after the abduction the family, on their own, held two protest campaigns with pregnant Mauri's participation in Anuradapura and in Colombo. During these two protests Police promised they will find some answers. But nothing happened.
Mauri was pregnant with twins when Madushnka was abducted.
On July 2014 the 'Families of the Disappeared' (FoD) and ' Anuradapura Api Purawasiyo' ( We citizens ) decided to launch a continuous campaign to be held on 2nd of every month, the day Madushanka was abducted.
Meanwhile Mauri lodged a complaint (an Affidavit) at the Deputy Inspector General of the police Anuradapura in October 2013. In her complaint she accused the senior superintend of Police, Mr. Mahesh Senaratna, (SSP – Anuradapura at that time) that he knows what happened to disappeared Madushka. She provided many details in the affidavit on the abduction and even named some police officers.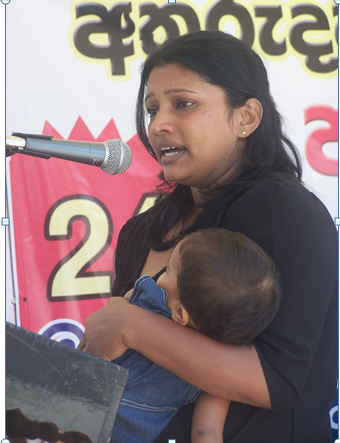 A leaflet distribution and signature collection campaign was organised in Anuradhapura against the abduction of Madushnka on 2nd of October this year by FoD and We Citizens. The petition demanded that an inquiry should be launched based on the information given by Mauri in her affidavit. Nearly 1100 signatures were collected within few hours while at the same time having a silent protest in front of the DIG's office. Mauri with some religious and civil leaders handed over the petition to the DIG's office.
Later when she went to meet the Senior DIG in Anuradapura she was scolded by him for organising protests and making accusations against SSP.
She was continuously threatened at least in six occasions in recent times.
In spite of all these threats Mauri was planning to do a sit on protest in front of the Police station as part of the monthly protest to be held on 2nd November. The joint committee was planning to have two-day campaign in front of the Courts on 3rd and 4th when the case was to be taken up.
Then on 1st November when Mauri went to the town at about 5.30 PM she was abducted. An innocent looking three wheeler driver offered his service to her and then drove her off. Soon he was joined by a well-built person who took the command.
(Some information in this article provided by the FoD)
© SLB