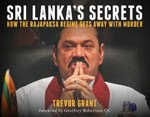 The Book By Trevor Grant With a foreword by Geoffrey Robertson QC
As the civil war in Sri Lanka drew to its bloody end in 2009 the government of this island nation removed its protection from UN officials and employees, who, along with other international observers, were forced to leave the conflict zone. President Mahinda Rajapaksa and his inner circle wanted, it seemed, a war without witness.
The end result was the deliberate slaughter of an estimated 70,000 innocent civilians. However, many survivors, and some who died, were able to capture on camera the horrifying conclusion to the war and the cruel deprivations of the internment camps that followed. Today, through their images and testimony, Rajapaksa stands accused of war crimes.
In Sri Lanka's Secrets experienced journalist Trevor Grant presents the shocking story of the final days of this war, alongside the photographs and eye-witness accounts of many Tamils, including Maravan, a social worker who fled to Australia by boat after being tortured by soldiers seeking his folio of photographs.
Grant also details the continuing torture and abuse of Tamils in Sri Lanka, and some national governments' ongoing support for a regime that has abandoned any pretense of democracy. Foremost among these enthusiastic supporters has been the Government of Australia, cynically preoccupied with 'stopping the boats' fleeing Sri Lankan state terror. At any cost.
Trevor Grant has worked as a journalist for more than 40 years, as a reporter and specialist feature writer for The Age and News Ltd in Melbourne, mostly in the sports arena. He now works as a broadcaster and writer on activist issues in Australia, and as an advocate for refugees through the Tamil Refugee Council and Friends of Refugees.