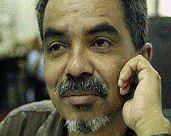 Prageeth
The Appeals Court today (May 31) heard the case of journalist Prageeth Ekneligoda's disappearance. The court gathered to receive an update of the current proceedings at the Magistrate Court in Homagama. The Magistrate had made an order May 17 to summon former Attorney General Mohan Peiris for testimony.

Testimony would revolve around a statement he made at the UN Committee Against Torture in Geneva on November 9, 2011 that Prageeth Ekneligoda was alive overseas.
Today the State Counsel from the Attorney General's Department requested the Appeals Court to overturn the decision of the Homagama Magistrate to summon Mohan Peiris, on grounds that he made the statement while on government duty within his capacity as senior legal advisor to the cabinet.
State Counsel argued that Peiris said that on government orders and officials are not required to disclose communications where "the public interest would suffer."
The State Counsel later argued that Peiris should not be "harassed" for carrying out government instructions.
The Appeal Court ruled that the Homagama Magistrate is acting on the instructions of the Appeals Court to hear this case and had the freedom to summon Peiris.