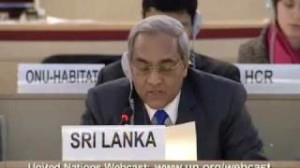 According to reports coming form Colombo former AG Mr. Mohan Peiris is among the one of the three persons nominated by the President Rajapaksha as new Chief Justice of Sri Lanka.
Mr. Mohan Peiris lied to UN CAT on the issue of disappearance of journalist Prageeth Eknaligoda and when challenged at courts refused to accept the verbatim report on his submission to CAT as a true copy. He has been the leader of GoSl team to Geneva UNHRC for years and has defended the government on its HR record.
Currently he is the legal adviser to the Cabinet.
Here is the report appeared in Sri Lanka Mirror site in Colombo:
The president has reportedly nominated three persons, including former attorney general Mohan Peiris, to replace Shirani Bandaranayake as the chief justice.
According to reports, the names were sent to the constitutional council today (Jan. 14).
Once the CC approves a name, that person will most probably take oaths before the president as the new CJ on January 15, said reports.