Image: Modi, Sirisena, and Wickremesinghe holding-hands credit @narendramodi
P.K.Balachandran.
Glorifying the teachings of the Buddha and pointing out their relevance to addressing the problems of the crisis-ridden modern world, Modi said that Vesak day is a day for rejoicing as well as reflection on the "timeless truth of the Dhamma" which the Buddha preached.
He was in Colombo as the Chief Guest at the UN-backed International Vesak Day Celebrations at the invitation of Sri Lankan President Maithripala Sirisena. Vesak marks the birth, enlightenment and mahaparinibbana (liberation or death) of the Buddha.
The Buddhist Dhamma's call for the inculcation of generosity, proper conduct, wisdom, energy, tolerance, truthfulness, determination, loving kindness and equanimity is of great relevance to the conflict-ridden present day world just as it was in Buddha's time, Modi said. He quoted the Buddha to say that the Dhamma is the greatest gift one can bestow.
The South Asian region, of which India and Sri Lanka are part, is blessed to have given the world the invaluable gift of Buddhism, Modi said, and went on to describe Vesak Day as a day of "enormous significance for Sri Lanka, India and the world."
India and Sri Lanka share a Buddhist heritage, the Indian Prime Minister said. He recalled that it was from India that the "fragrance of Buddhism" spread to other parts of the world including Sri Lanka.
Although Buddhism disappeared from India, its ethos stayed on. Modi claimed that Buddhist ideas manifest themselves in the Indian national psyche even today (though there are very few Buddhists as such in India). India gave Si Lanka Buddhism at the time of Emperor Ashoka, and Sri Lanka has preserved it to this day. In a reverse movement, which took place many centuries later, Anagarika Dharmapala, a Sri Lankan, journeyed to India to revive Buddhism there.
"From the earliest times to the present day, Buddhism has given radiance to the relationship between India and Sri Lanka," Modi said.
Linking past connections through Buddhism to connections of the present day Modi said that the Vesak celebrations afford " a great opportunity for strengthening ties and taking a quantum jump in several field of cooperation."
To assure Sri Lankans that the cooperation with India will not be weighted in favor of the latter, Modi said that the "benchmark of progress in India-Sri Lanka development cooperation will be Sri Lanka's satisfaction."
He promised that India's 1.2 billon people will stand by Si Lanka as it progresses towards development and prosperity.
Modi urged cooperation in the field of connectivity, trade, industry, Information Technology, energy and sharing of knowledge. He pointed out that the foundation for cooperation is quite strong given the fact that India's development cooperation with Sri Lanka is already worth US$ 2.6 billion.
To please Sri Lanka's Sinhalese Buddhists and Tamil Hindus alike, Modi announced that he has decided to provide from August this year, a direct Air India flight between Colombo and Varanasi which is near the famous Buddhist shrines at Sarnath and Bodh Gaya and which is also a holy place for the Hindus as the abode of Lord Vishwanath.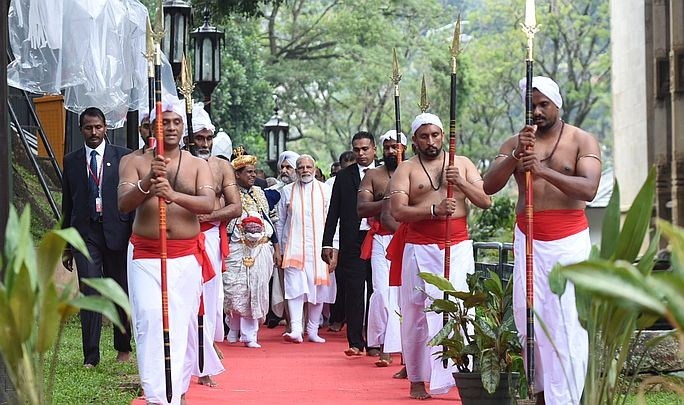 More than 200, 000 Sri Lankan Buddhists go on pilgrimage to India every year. A good number of Tamils also do, though they head for shrines in Tamil Nadu and Andhra Pradesh.
Modi wowed the packed hall at the Bandaranaike Memorial International Conference Hall by quoting extensively from Pali works to illustrate the ideas propounded by the Buddha. He has been an ardent promoter of his home state Gujarat's rich and ancient Buddhist heritage.
Cooperation in Security
Touching on security, the Indian Prime Minister said that the security of India and Sri Lanka is "indivisible" and therefore India and Sri Lanka must join hands to ensure security in the Indian Ocean Region.
Speaking on the all pervasive problem of international conflicts and terrorism Modi said that the only way to get round them would be to adopt the Buddha's way which calls for peace, inclusion, compassion and accommodation.
Wooing Indian Origin Tamils
Modi later flew to Dikoya to formally inaugurate a 150-bed state-of-art hospital to serve the Indian Tamil community in the plantation areas. Proceeding to Hatton from there he addressed a huge gathering of Indian Tamil restate workers at Norwood estate.
He praised the Indian Origin Tamil workers for fighting for their rights peacefully eschewing violence and terrorism. He announced that India will build for them 10,000 houses in addition to the 4,000 already being built. He also said that the Emergency Ambulance Service (which India runs through the Sri Lankan Health Ministry at a cost of US$ 20 million) will be expanded from the Western and Southern provinces to cover all other provinces in the island.
To the delight of the Tamil audience he spoke in Tamil too, quoting from Tamil sages like Poonkundranaar and Thiruvalluvar to press home his point on harmonious living and the intrinsic value of hard work.
(The featured picture at the top shows Indian Prime Minister Narendra Modi, Sri Lankan President Maithripala Sirisena and Prime Minister Ranil Wickremesinghe holding hands to affirm Indo-Lankan solidarity)
-courtesy of southasianmonitor.com