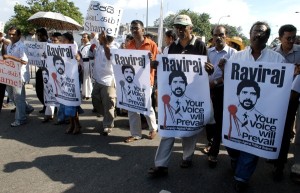 TNA M.P. Nadarajah Raviraj was assassinated on 10 November 2006
Members of the Inter-Parliamentary Union's [IPU's] Committee on the Human Rights are to begin a three-day mission, 9-11th July, to Sri Lanka to advocate investigations into the attempted assassination of an opposition Tamil MP, as well as seek answers on the unresolved cases of two other Tamil MPs killed in Sri Lanka, a press release issued by the IPU said. The mission is being led by the Vice-President of the Human Rights Committee, Chilean MP Juan Pablo Letelier. The timing of the visit, ahead of the Commonwealth meeting in Colombo, by an organization which has not been vocal on Sri Lanka's human rights record, raises questions on the motives of the key players behind the mission, political sources in Colombo said.

Membership in the IPU includes 162 countries, and the US is not one of them.
The mission will raise its concerns about the cases with senior figures in government and the judiciary, including the Minister of Justice, the Attorney General and the Inspector General of Police, the release said.
Excerpts from the press release follow: Sivagnanam Sritharan, a member of the Tamil National Alliance (TNA) party, was travelling from Vavuniya in the Tamil heartland in the north to the Sri Lankan capital Colombo on 9 March 2011, when his vehicle came under a grenade attack. Thanks to the skill of his driver, Sritharan escaped unscathed.
The assassination attempt came three years after the previous incumbent of Sritharan's parliamentary seat was murdered. Both that assassination and the attack on Sritharan himself remain unpunished with the latter continuing to face threats to his security.
The mission will also examine the circumstances surrounding two other cases involving TNA MPs who were brutally murdered in public. Joseph Pararajasingham was shot dead by unidentified gunmen on 24 December 2005 during a Christmas Eve church mass in the presence of around 300 people. His wife and seven other victims sustained gunshot injuries while the perpetrators have never been caught.
Nadarajah Raviraj was assassinated on 10 November 2006 along with his security officer, while travelling in his vehicle along a main road in Colombo. Zambia was one of the 29 countries that praised Sri Lanka in UN Human Rights Council in May 2009. The President of the IPU is Mr. Abdelwahad RADI, former Speaker of the Moroccan House of Representatives. He was elected to this post for a three-year mandate on 19 October 2011 at the 189th session of the Governing Council of the IPU in Bern.
Established in 1889, the Union is the focal point for world-wide parliamentary dialogue and works for peace and co-operation among peoples and for the firm establishment of representative democracy, IPU's website said of its mission
TN