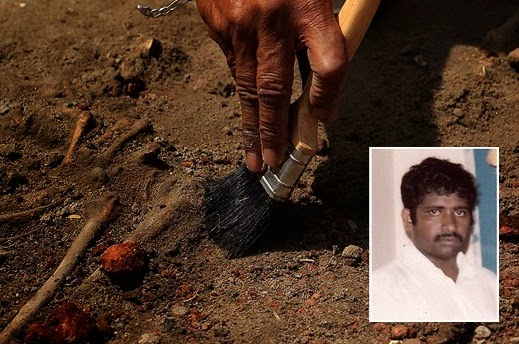 Athula Vithanage
A group of local people clearing a garden in Mankulam in the tightly-guarded Wanni on Tuesday (March 12) has found skeletal remains, which was later identified to be that of a science teacher of Vavuniya, Karthikesan Niruban, who went missing on September 19, 2013 in the run-up to the maiden Northern provincial council poll.
Sources in the Wanni told the JDS via phone that the badly decomposed skeletal remains with bits of clothing was found by a group of local people while clearing a garden near 225/226 KM post in Mankulam on Wednesday.
"Ms Sivakaran Nishthika, the sister of Karthikesan Niruban on Thursday has identified the remains to be that of her missing brother," the sources said.
38-year old Niruban from Kopay in Jaffna was working as a science teacher at the Al-Amiya Muslim Maha Vidyalayam, Neriyakulam in Vavuniya. According to the Ceylon Teachers' Union, Niruban rented out a room in Vavuniya and had been travelling to work from there. He was last seen on September 19, 2013 parking his bicycle at the Vavuniya Municipal Council parking slot near the Vavuniya bus station.
The bereaved family of Niruban made an official complaint with the Vavuniya Police (No: CIB1 141/446) on September 28, 2013, while the Ceylon Teachers Union organised a mass protest rally on November 19 in Vavuniya and made a complaint to Human Rights Commission, urging the authorities to help rescuing the missing Tamil teacher.
The entire Northern Province, especially the former war zones in the Wanni has been under the close guard of the heavily-armed military personnel and intelligence personnel, amid mass scale military land grab and systematic Sinhala colonisation. Tamil students, activists and former LTTE cadres, who have undergone the government's so-called rehabilitation programme are often reported missing and hardly anyone returned even five years after the end of the war.
© JDS