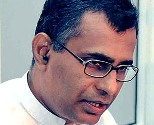 A Sri Lankan cabinet minister has threatened with 'hundred more massacres' unless the island's Tamil population avoid following the politics of the main Tamil parliamentary group. The warning came during a news conference on the 8 June in Colombo.

"One Mullivaikkal is enough. Don't try to get 100 more" said Power and Energy minister Champika Ranawaka, the leader of Sinhala right wing Jathika Hela Urumaya (JHU), a main constituent party of the ruling coalition headed by President Mahinda Rajapaksa. The threatening comments were made as a response to a speech delivered by the leader of the Tamil National Alliance (TNA), R.Sampanthan during the national convention of the Ilankai Tamil Arasu Kadchi (ITAK), the chief constituent party of the TNA.

'Forgive and forget'
"Does Sambanthan want to create 100 more Mullivaikkals? We are ready to forgive and forget the past and think about the future" said the minister. "But, if Sambanthan is calling us to a fight, our nation would proudly accept the challenge" he further said.
The leader of the TNA, 79 year old veteran Tamil politician while delivering the keynote speech at the ITAK national convention the week before, said: "The position that the North and East of Sri Lanka are the areas of historical habitation of the Tamil speaking people cannot be compromised. We must have unrestricted authority to govern our own land, protect our own people, and develop our own economy, culture and tradition. A meaningful devolution should go beyond the 13th Amendment to the Constitution." If the Sri Lankan state continuously deny this right, "we will claim our right under international law to external self determination" he said.The ITAK convention was held following failed attemps by the TNA to arive at an agreement with the government on an acceptable solution to the National Question.
Expressing anger over the remarks of the Tamil leader, the Sri Lankan minister cautioned the island's Tamil population saying "we appeal to the Tamil people not to go behind this kind of people and end up in getting 100 more Mullivaikkals".
Mullivaikkal is an area on the northeastern coast of the island where tens of thousands of Tamils were cornered and massacred during the final stage of the war between Sri Lankan troops and the Liberation Tigers of Tamil Eelam (LTTE) in 2009. Since then the area has become known as the final 'killing field' of the war and Tamils around the world hold annual commemorations named "Mullivaikkal Remembrance Day". News: jdslanka.org, Video courtesy: ETV (Video on Top our website)
© JDS