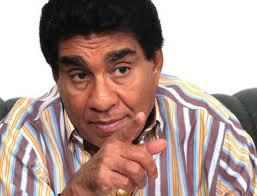 Minister and a crime boss
Nirmala Kannangara
Following revelations on how former DIG Vass Gunawardena extorted money from the Parliamentary Affairs Secretary to Minister Mervyn Silva to avoid taking action against him for the possession of heroin and firearms; concrete evidence has now emerged as to how Minister Silva is having close associations with underworld thugs.
Sarath Edirisinghe alias Singappuru Sarath was the then Parliamentary Affairs Secretary to Public Relations Minister Mervyn Silva. He was allegedly connected to many murders, extortions, prostitution and drug peddling with the assistance of the Minister. Although Singappuru Sarath was remanded for an alleged murder, he was later taken as a state witness and was granted bail within a few weeks all because of Mervyn Silva's connections.

The investigations further revealed that Vass Gunawardena had told Singappuru Sarath that his (Singappuru Sarath's) name was on the top of the list of drug traffickers to be killed.
"Now it is clear that Singappuru Sarath was connected not only to drugs but also in weapon trafficking as well. For a person to be in the first place of a list of notorious drug traffickers, how powerful should he be? Unless with the blessings of a powerful figure, how can anyone be a drug trafficking leader? Since Singappuru Sarath was the parliamentary secretary to minister Silva it is now evident the Minister is giving shelter to all the drug and weapon traffickers in Kelaniya and Kiribathgoda who are his close associates," said a high ranking police officer on condition of anonymity.
According to him, had this been reported about any other person, the police would have taken prompt action to question the suspect and would have even been arrested?
"According to the information, Vass Gunawardena had asked for Rs.3 million from Singappuru Sarath but had received only Rs.1.48 million. Who is this Singappuru Sarath and how could he engage in drug and firearm trafficking if not for any support from a 'big wig'. This clearly shows that Minister Mervyn Silva was directly providing shelter to him to engage in this business and it is questionable as to why the police have failed to question Singappuru Sarath and even Minister Silva," said the police officer.
However he said that questioning Minister Silva for Singappuru Sarath's involvement in drug and firearm trafficking couldn't be expected when he was not questioned for the murder of Kelaniya Pradeshiya Sabha member Hasitha Madawala.
Singappuru Sarath was the 4th suspect in the Madawala murder case and the 1st suspect Rangana Perera who killed Madawala had told the CID that it was his mother's brother – Singappuru Sarath who gave him the weapon and wanted to murder Madawala. According to Rangana, the weapon – a T-81/01 automatic machine gun was in the possession of Singappuru Sarath. Although the suspected killer had told courts that Singappuru Sarath was involved in the murder directly by aiding and abetting the killers, he was taken as a state witness and granted bail together with the 5th suspect Saman Nishantha, the Coordinating Secretary to Minister Silva.
Rangana has further told the CID that it was Singappuru Sarath that bought him an air ticket to go to Singapore the following day and had given US$ 1,000 for his expenses.
Meanwhile, according to the police 'B' report submitted to the Mahara Magistrate's Court, the two helmets the motorcyclist and the suspected killer were wearing at the time of committing the murder had been found from Samanala Restaurant in Kiribathgoda, which is owned by Singappuru Sarath.
The 'B' report further states that when the 1st suspect Rangana wanted his uncle Singappuru Sarath to take both Rangana and the 2nd suspect Ashen Chathuranga – the motorcyclist – to a hiding place, it was Singappuru Sarath that has called the 5th suspect Saman Nishantha to take them to Negombo.
According to Rangana it was his father that provided information to the suspected killer the whereabouts of Madawala.
Meanwhile, the police officer told as to how the police force was demoralized when Singappuru Sarath and the 5th suspect were granted bail.
"The police officers had a tough time in arresting Singappuru Sarath and the rest for more than 48 hours eating only cream crackers. They did not leave any stone unturned to arrest the suspects. Unfortunately Singappuru Sarath and Minister Silva's Coordinating Secretary – the 5th suspect, although having clear evidence for the murder, were granted bail within 54 days because of Minister Silva's connection to one of the top CID officers who is connected to one of the higher legal officers in the Gampaha High Court," said the sources.
He further said that when there are many murder suspects still in jail for longer periods it was interesting to see as to how Minister Silva's two secretaries were granted bail so early.
According to the sources, although Singappuru Sarath has confirmed that the killer weapon was given to him by his son, when the son was arrested and produced in Mahara Courts two weeks ago, he has said that the weapon did not belong to him.

"Then whose weapon was it. Since there is evidence that Singappuru Sarath is into firearms smuggling, why cannot the police arrest him? Although these trafficking is carried out by these henchmen, the police know that drug and firearm trafficking, prostitution and extortions are done on Minister Silva's directives. It is also a known secret as to how Malaka Silva is providing these drugs to Hikkaduwa and other down south areas. Although the police have all these information no one dares to arrest them since they are getting political patronage all the time," said the sources.
"These are all well drawn plans. The police is helpless and cannot do anything because of the pressure mounted on them. Even the OIC Kiribathgoda is biased towards Minister Silva and cannot expect impartiality from the police," said the sources.
Meanwhile residents in Kelaniya have been taken aback when it was reported that President Mahinda Rajapaksa has taken immediate action to sack North Western Provincial Council Member Ananda Sarath Kumara for ordering a school teacher to kneel down for asking Kumara's daughter to undo the school uniform hem.
"It is very good for the President to sack this provincial councilor but what action did he take against Minister Mervyn Silva for tying a Samurdhi Officer to a mango tree in August 2010. If the SLFP could take stern action against the North Western Provincial Councilor for the uncouth behaviour and breach of conduct and has decided not to give nominations in future elections, why couldn't they do the same to Mervyn Silva. Instead of taking action against him, President Rajapaksa conferred him with a cabinet portfolio. This shows the duplicity. Had Minister Silva been sacked when he tied the Samurdhi Officer two years ago, this Provincial Council Member wouldn't have dared to punish the teacher. Why is this government treating two politicians that have harassed two government officials in two different ways," queried the residents.
Meanwhile, residents in Old Kandy Road are happy as they could win a case against Minister Mervyn Silva for acquiring their properties to widen the road.
"There are about 200 residents living along this road and once Minister Mervyn Silva wanted all of us to come to the Pradeshiya Sabha Kelaniya for a discussion. When we went we were told that there is a plan to widen the road and threatened us not to seek compensation as it is a worthy cause. Since we were scared we did not object. One afternoon Minister Silva came with Army and Pradeshiya Sabha backhoes and with the Kiribathgoda and Kelaniya police guard the buildings that were earmarked for the road widening were bulldozed," they said.
According to them neither the Road Development Authority (RDA) nor the Provincial Road Development Authority (PRDA) when asked to pay compensation made any payments for the losses.
"When we wrote to these two institutions we were told that they were not involved in any land acquisition and that they cannot pay any compensation. Then 20 of us got together and met Advocate Rushanka Samaranayake and filed a Fundamental Rights Application in the Supreme Courts citing RDA, PRDA, Kelaniya Pradeshiya Sabha, Minister Mervyn Silva and Land Minister Janaka Bandara Tennakoon as respondents," said the residents.
"The court ordered the PRDA to make a valuation for our acquired properties. At the next hearing date on July 1, the court will deliver its ruling. Although all the residents did not want to join us to file the FR Case in fear of Mervyn Silva, realising that we are now in the winning path the rest of the residents too are now planning to file another case seeking compensation for their acquired properties,"
Meanwhile according to the residents Mervyn's act of violence is now coming into action in a snail's pace.
"We are in fear whether drug trafficking, prostitution and extortions will once again see the light of the day in the sacred city where Gautama Buddha once placed His feet. Minister Silva is trying his best to come back as the SLFP Organizer since he knows that he could extort money. There are many houses of ill fame along the Hunupitiya road and in Kelaniya and Kiribathgoda run by Silva supporters. Since the Kiribathgoda OIC is a friend of Minister Silva no action has been taken to raid the brothel houses. It is the same with drug trafficking as well," they added.
They further said as to how Singappuru Sarath once extorted Rs.7.5 million from the owner of the Royal Park Hotel when he was refurbishing the hotel.
"In fear the Royal Park Hotel owner gave the money and when the Pradeshiya Sabha members made a complaint to the CID in this regard, they questioned the hotel owner and got down the cheque numbers and all the relevant details into the extortion. But up to now no action has been taken against any one," they said.
When contacted the Royal Park Hotel owner for a comment, he did not wish to make any comment.
"I don't want to comment as I want to live peacefully," he said.
SL