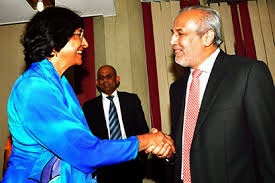 Navi Pillay with Rauf Hakeem
Sri Lanka Muslim Congress (SLMC) leader and Justice Minister Rauff Hakem says he stands by his decision to submit a report to the UN High Commissioner for Human Rights Navi Pillay related to reconciliation issues.
Speaking to reporters after meeting the Chief Prelate (Mahanayake) of the Malwathu Chapter in Kandy today, Hakeem said that the report to Pillay focused purely on shortcomings in implementing the recommendations of the Lessons Learned and Reconciliation Commission (LLRC).
He said that as the LLRC was approved by Cabinet there was nothing wrong in giving Pillay a report related to that commission and its recommendations.
The Minister also said that by giving a report related to the LLRC to Pillay he and his party wanted to further secure reconciliation in the country.
"We did not betray the country. The UN human rights commission is something that is accepted the world over and in Sri Lanka. Every year every country goes to the commission to counter allegations against them. Meanwhile it is an accepted norm that any organisation or group submit reports to the commission independently. Even President Rajapaksa had once given a report to the commission regarding some incidents. So I see nothing wrong in this," he said.
Hakeem, meanwhile warned, that the reconciliation process in Sri Lanka is now under threat owing to the actions of some groups.
He said that in the recent past some organisations were creating divisions among communities representing various religions and this in turn was a threat to the reconciliation process.
The Minister noted that these groups operate on the basis that they own the country and this has now resulted in more negative information being reported to the UN Human Rights Council. (Colombo Gazette)