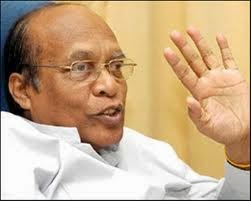 Communist Party Leader, D.E.W. Gunasekera, said he has decided not to participate in future proceedings of the Parliamentary Select Committee (PSC), appointed by the government to find a solution to the ethnic problem, as there was nothing more to discuss among ministers. However, he said he would participate only if the TNA and SLMC became involved in the discussions. Gunasekera also invited all Opposition political parties to participate in the discussions. They are duty bound to find a solution to this cancer, which has caused immense damage to this country during the last 30 years, he said.
Gunasekera also reiterated that the SLFP and UNP, even at this late stage, should make a genuine, concerted effort without any pre-conditions to find an acceptable solution to the national question.
Party leaders alone cannot do this. Discussions among themselves would not produce any results, he however, said. The minister emphasized that any solution to the ethnic problem has to come from the combined effort of the governing Party and the Opposition as evidenced by the experience of other countries which faced similar situations.
Gunasekera also told Ceylon Today, "We have a responsibility to discharge our duties in this regard in the name of all those who lost their lives in this destructive war. Other than the government side, no one else attends the PSC now. TNA, SLMC UNP and JVP should be parties to the discussions. We might then be able to attain at least 60-70% consensus. That will be a good start.

SLFP and the UNP always used the ethnic problem as a tool to win elections. This should at least stop now. We should not leave it for future generations."
JHU MP Athuraliye RatanaThera said he does not attend the PSC as he does not believe it can produce any result. He said, "PSC is only a time consuming affair. It is only a talk shop and no work gets done. A government, which has two thirds majority in Parliament, need not take more than three months to conclude the matters under reference. Government tells different stories to different Parties including to India and the Sri Lankan public. This is only a waste of time. The PSC should bring forth a good mix of ideas from all concerned Parties."
By Niranjala Ariyawansha
Ceylon Today