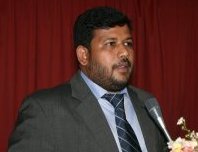 Bathiudeen
The Court of Appeal yesterday committed Cabinet Minister Rishad Bathiudeen to stand trial on Contempt of Court charges following his pleading not guilty. Trial was fixed for February 13, 2013.
Bathiudeen has been charged on three counts. The first charge is telephoning Mannar Magistrate Anthony Judeson on July 17, 2012 and attempting to interfere with a judicial order.
The second charge is that the accused Minister again called the same Magistrate on July 18, 2012 in respect of the same issue. The third charge is that subsequently Bathiudeen telephoned the Secretary to the Judicial Service Commission and demanded that the Magistrate be transferred out of Mannar.

The charges were read out to Minister Bathiudeen in open Court, in Tamil, at his request, as he claimed that he would understand the charges well only if they were read out in Tamil.
Bathiudeen pleaded not guilty to the charges.
The Court of Appeal fixed the matter for trial on February 13, 2013.
The list of witnesses are to be filed by December 23, 2012,
At the outset, Faiz Mustapha PC, who appeared for the first respondent Bathiudeen, took up three preliminary objections.
The first was that the first charge was vague. There was no evidence to support the claim that the Minister called and abused the Magistrate. The second objection was that the manner in which contempt was committed was not described. The third charge was that the petitioner had no basis to come before the Court of Appeal.
The Court of Appeal overruled all three objections, saying that police statement, provided by the Magistrate, with the petition provided ample evidence to show that there was a prima facia case in relation to charges (1) and (2), and that summons could be issued on Bathiudeen. The Court also said that the affidavit of the JSC Secretary provides prima facia evidence to issue summons on the first respondent Minister in relation to charge (3).
Subsequently, Faiz Mustapha PC, told the Court that he would file a leave to appeal application against the order in the Supreme Court. The Court of Appeal said he may.
Among the petitioners, who had complained to the Court of Appeal against the conduct of Minister Bathiudeen, were senior lawyers such as Jeffry Alagaratnam PC, A. S. M. Perera PC and several others. They had said that the Minister had abused the judicial process and demeaned the dignity of the Court. Hence, he should be dealt with and punished for contempt of Court.
Romesh de Silva PC, appeared with JC Weliamuna Saliya Pieris, Sugath Caldera and Vijraj de Silva for the petitioner lawyers.
The Bench comprised Justice S. Sriskandarajah (President) and Justice Deepali Wijesundera.
By Chitra Weerarathne
IS