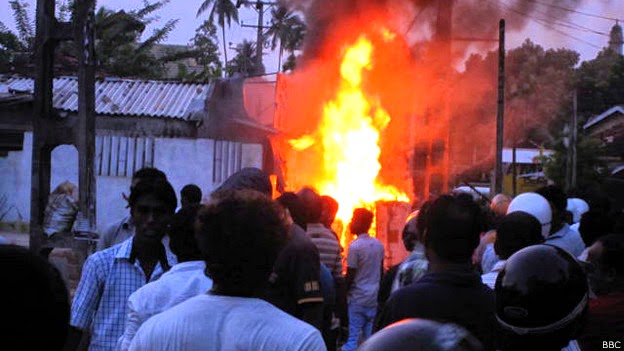 Fire in Aluthgama
Police curfew has been imposed in Aluthgama following a clash that occurred between Sinhala-Buddhists and Muslims in the area.
The clash occurred following a protest organized by the Bodu Bala Sena this evening where the BBS accused a Muslim group of assaulting a Buddhist monk. Addressing the gathering, BBS General Secretary Galagodaaththe Gnanasara Thera strongly criticized the Muslims in the area and said they were inciting violence.
When the Muslims in the area started reacting to the protest, things took a violent turn, a senior police officer told 'Asian Mirror'. According to Police, it is still not clear as to who attacked first.
Journalists who were in Aluthgama when the clash occurred said it showed the signs of a mini-battle.
However, the Police swiftly announced a police curfew in the area to bring the situation under control. Meanwhile, Police have now taken measures to provide security to mosques across the country.
Most of the Muslim organizations, including the Sri Lanka Muslim Congress, welcomed the timely action by police to avoid deterioration of the clash.
"It is now clear who the traitors are. We urge Muslims to remain calm. Also, we highly appreciate quick action by Police. We also urge them to act the same manner in the future", SLMC Leader Minister Rauff Hakeem said addressing the national convention of the party this evening.
Meanwhile, Police curfew has also been imposed in Beruwala after several mini scale clashes reported in the area this evening.