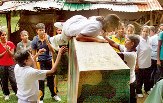 Lankan students have to undergo rigorous workout to get into varsities
by Chandani Kirinde
Salvage a heavy vehicle stuck in mud, complete a 5-km march in 45 minutes and do push ups and run obstacle courses. This is not part of the curriculum for those training to join the Sri Lankan military or the police, but a part of a controversial three-week-long "leadership training" programme for the students to gain admission to state-run universities across the country.

The first batch of students "passed out" in mid-June, but the whole idea of subjecting undergraduates to rigorous military-style training while living in military bases has drawn flak from opposition political parties as well as civil society organisations, who warn of a growing "militarisation" of society in post-war Sri Lanka.
Higher Education Minister SB Dissanayaka is seen as the brains behind the idea and says the programme is aimed at creating a disciplined society. President Mahinda Rajapaksa too is backing the programme. About 22,000 students gain admission to state-funded universities each year and with a prohibition on private universities still in place, a placement in these institutions is highly coveted.
But despite the allure of free higher education, Sri Lankan universities are also a hotbed of political activity and at many times anti-government student bodies take an upper hand. An opposition political party – the People's Liberation Front or the JVP – has its tentacles in many of the students unions and has been successful on many occasions of disrupting activities by organising strikes and protests and many analysts see the government's new initiative as one aimed at breaking the backbone of the unions backed by the JVP.
Politicians have gone public with the views that it is the JVP that has been the most vocal in its opposition to the leadership training programme as it fear that it will lose its grip over student bodies, but the party maintains they are against the "militarisation" of the students.
Other than the physical training, the students are subject to lectures on history at the training programme too is controversial.
The lesson starts with the arrival of the Aryans and the deals with foreign invasions and how they were overcome. This has been criticised by civil society groups that say it would cause frication among the different races, mainly the Sinhalese majority, who claim to be the decedents of the Aryan, and the Tamils, who claim they are the decedents of the Dravidians.
The training programme has gone on without a hitch, but whether it would produce a disciplined student body or aggravates the already volatile university system in the country can only be seen in the months ahead.
The Tribune