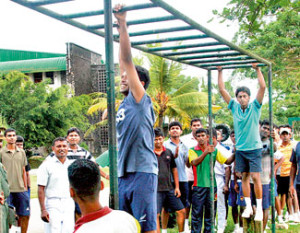 Outdoor thrills and hazards give edge to pre-campus leadership training at Army camps.
Nadia Fazlulhaq reports
Wild elephants, snakes and ravenous mosquitoes are some of the natural challenges that university students have had to face in their first week of leadership training at Army camps around the country. Hardly five days into their training and students, followed by their parents, are complaining about inadequate facilities and other problems at training camps.

"At the training camp in Trincomalee, there were only two toilets for the use of 300 female students when the training programme was launched. The students were compelled to be up at 2 a.m. daily to be in line for training, beginning at 5 a.m. At the camp in Ampara, students exercising near a water tank hurt themselves while running away from wild elephants. There were also reports of fainting and snake bite.
"Three girls in the Trinco camp fainted during training, and despite pleas from their parents, the students have not been released," Inter-University Students' Union convener Sanjeewa Bandara told the Sunday Times.
Varsity students caught up in the rough and tumble of training at the Panagoda Army Camp. Pictures by J. Weerasekera
"At the Minneriya camp, a female trainee was bitten by a snake. In addition, the Ampara and Trincomalee camps are infested with mosquitoes, but students say there are no facilities for hanging the mosquito nets they had brought with them."
In the South-West, at the Boossa camp, near Galle, there have been complaints of undrinkable water and stale food. Asked whether anything is being done to address the students' complaints, Dr. Sunil J. Nawaratne, Secretary to the Ministry of Higher Education, told the Sunday Times that a total of 60 new toilets were being installed in the Trincomalee and Boossa camps.
"Following complaints about drinking water, we transferred a considerable number of students from the Light Infantry Training School in Boossa to the Navy School, also in Boossa. What the students are complaining about are common experiences in any camp," Dr. Nawaratne said.
Brigadier Ruwan Wanigasooriya, Director (Training) of the Sri Lanka Army, told the Sunday Times that the out-bound leadership training programme involved individual and collective challenges. "There are 8,300 students at 28 military camps, and the Army is training around 5,000 students. True, there have been a couple of cases of fainting during exercises and drills, and students are also feeling homesick, but overall they are adjusting well to conditions," he said.
Brigadier Wanigasooriya said the Army had put in more than four months' preparation to set up the university students' leadership training programme, for which some 1,800 instructors were given a tailored training.
"Specially trained female medical personnel are on stand-by to attend to female trainees who may need medical attention, and maximum security is in place at all camps, including Ampara. There are a few wild elephants roaming the surrounding areas, but we are ensuring that no student will be in danger."
Speaking about the programme's overall benefits to university students, Higher Education Ministry Secretary Dr. Nawaratne stressed the fact that most students in Sri Lanka know little about the country's legal system, and tended to lack leadership qualities. It is therefore important to continue with the programme, he added.
The training combines outdoor drills and physical exercises with lectures on leadership and academic subjects. The leadership curriculum includes classes in time management, communication, motivation, morale-building, and loyalty. Students also learn a variety of useful soft and hard skills, from learning to mediate through discussion to setting up a canvas tent and salvaging heavy vehicles stuck in mud.
The range of physical exercises includes sit-ups, push-ups, pull-ups, 1.2 kilometre runs, and squad drills. The young participants also learn to use monkey ladders and sky ladders, scale walls and swing Tarzan-style on ropes.
Lectures cover a variety of topics. Those relating to leadership encompass familiarisation with the penal code, with emphasis on sections relating to personal security rights, the protection of government and public property, and unauthorised public meetings. Besides leadership, there are lectures on history, the laws of the country, social customs, conflict management, psychology, first aid, hostel practices, personal hygiene, and sexual harassment.
Trainees also prepare presentations on world-famous and inspirational leaders, including Mahatma Gandhi and Jawaharlal Nehru, and notable leaders in Sri Lanka history, such as King Dutugemunu, Vira Puran Appu, Ranasinghe Premadasa, and Mahinda Rajapaksa.
Laptops, and English and Information Technology courses are added incentives. "All training course participants are entitled to laptops on concessionary loan from the state," Dr. Nawaratne said. "Those who do not attend the training would not only lose the opportunity to get a laptop with mobile broadband connections, but also free courses in English and Information Technology."