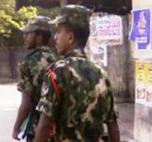 registration documents
22 June 2011 People Dissatisfied – GTN reporter
Registration activities in the Jaffna peninsula continue without any changes, despite Jaffna. Commander Major General Hathurusinghe's announcing that registration activities in the peninsula are suspended.
It is reported that registration activities continue in Valikamam, Vadamaraachchi and in many other areas.

Though registration procedure has somewhat lessened in the Jaffna town and it suburbs, it continues without any change in the village areas and other places. Soldiers visit the houses along with the army officers and engage themselves in the registration activities. Soldiers coming to the house ask some funny questions such as whether there are rooms in the house; is there a well? and is there a latrine? this prompts the people in the houses to laugh.

The soldiers also ask questions such as whether there were liberation tiger cadres among the house holders, or former tiger cadres were there or anyone from the householders were detained and whether there are any relatives abroad. Such questioning by the soldiers creates panic among the people.
Registration activities were done in a large scale in Jaffna sometime back and after the TNA went to courts over this registration issue, the military not wanting to climb the court steps announced that they were suspending the activity.
The army uttering about suspending the procedure 4 or 5 times and later on secretly continuing the registration and the TNA continuing to point out the abuse and the army then suspending the activities once again continued in a cycle. In the midst of this the Jaffna district army commander when he met TNA delegation recently had said that the registration procedure will be suspended, but even after his saying that the procedure has been suspended, the activities are actually continuing in many areas in peninsula.
It has become a practice for the commander of the Jaffna district to give such assurance and the media to report his attitude and then the public ignoring the commander's assurances. The commander usually says one thing but does another thing.
However Colombo newspapers including the national dailies say that the registration activities have been stopped, which is far from the truth. Why are the national dailies doing this? the people question
GTN