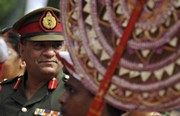 The Sri Lankan Government Agent of Trincomalee Major General (retd) Ranjith de Silva has appropriated 15 acres of land that belongs to the Trincomalee District Young Men's Hindu Associations Federation (TDYMHAF) in the traditional Tamil village Kanniyaa, situated 7 km north of the east port city, for the construction of a Buddhist Vihare.
The appropriated land is located in the vicinity of the Kanniyaa hot wells, a revered place for Saivites. The administration of the historic Kanniyaa hot wells has also been handed over to a Buddhist monk who is the head of the Velgam Buddhist Vihare, which is located two km away from the site, according to a memorandum submitted to the All Ceylon Hindu Congress (ACHC).
The act of the Trincomalee GA follows the act of another Sinhala GA in the country of Eezham Tamils, Mr Sarath Savindra in Mannaar, ordering the construction of a Buddhist temple at the Saiva sacred site of Thirukkeathesvaram.
All the GAs along the border districts of the country of Eezham Tamils, from Mannaar to Trincomalee, including Vavuniyaa and Mullaiththeevu, will soon become Sinhalese to carry out the structural genocide agenda of Colombo, informed circles in the island said.
Two years ago, the military GA of Trincomalee had stopped the Trinco Town and Gravets Piratheasa Chapai (PS), a local authority, from maintaining the historic Kanniyaa Hot Wells stating that it belonged to the Department of Archaeology.
The SL Government Agent has arbitrarily used his powers again now and handed over the administration of hot wells to Velgam Vihare, sources alleged.
Representatives of the TDYMHAF submitted their memorandum at the ACHC convention held in Colombo on Sunday with an objective to discuss the problems of Saiva temples n the North and East and in other parts of the island, following reports that several Saiva temples have been desecrated and demolished to give away to the construction of Vihares since the conclusion of the war three years ago.
In 2010, the SLGA had also directed his men to remove the name board, which stated that the ancient King Raava'nan founded the hot wells and constructed the Pi'l'laiyaar temple to conduct the 31st day ritual ('Anthiraddi' rites) to his deceased mother.
The Hindus in this region conduct "Anthiraddi" rites in memory of their deceased kith and kin.
Kanniyaa hot wells and the Pi'l'laiyaar Temple earlier came under the administration of Trincomalee Madaththadi Muththumariaamman Temple. Later the Trincomalee Town and Gravets PS took over the maintenance of the hot wells.
In 2002 on the orders of the then Trincomalee GA N. H. K. Nelumdeniya the renovation work of the centuries' old Kanniya Pi'l'laiyaar temple located in the precincts of historic hot wells had been suspended on representations made by some Buddhist priests, who claimed that the bricks found at the site belonged to Anuradhapura period.
The Pi'l'laiyaar temple and the associated guest house (Madam) had been destroyed by Sinhala thugs during the ethnic pogroms.