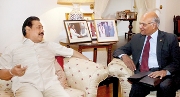 MR & Menon
Indo-Lanka ties under heavy strain; National Security Advisor holds crucial talks with Rajapaksa trio
"As exclusively revealed in The Sunday Times last week, Menon's mission was to convey to the government in "the strongest terms" New Delhi's concerns over a string of important issues. His meetings in Colombo originally listed for one-on-one dialogues with President Mahinda Rajapaksa and Defence Secretary Gotabaya Rajapaksa "
By ST Political Editor

It was past midnight signalling the dawn of Friday when the voice on the radio crackled. "Good morning Colombo Airways. This is Bravo Juliet 135," said the Indian Air Force pilot from the cockpit of a Brazilian-built Embraer 135 jet. The radio contact with the incoming aircraft from New Delhi was handed over to Colombo Radar and thereafter to Air Traffic Controllers at the Bandaranaike International Airport. Later, ground controllers took over to park the jet on the apron. Some distance away a fleet of vehicles including armed escorts were on standby for a quick drive to Colombo.
Alighting from the aircraft was Shiv Shankar Menon, India's National Security Advisor, an official who holds cabinet rank and plays a strategic role in day-to-day affairs of the Congress-led government in New Delhi. Indian High Commissioner Ashok Kantha and officials of the protocol division of the Ministry of External Affairs shook hands with the visitor. Immediately thereafter, he was whisked away to the Taj Samudra Hotel overlooking the Galle Face Green. Hours later, as the Sun's rays enveloped Colombo, Menon, a former envoy to Sri Lanka and one time Foreign Secretary, embarked on a chapter that is easily one of the most critical phases in Indo-Sri Lanka relations.
As exclusively revealed in The Sunday Times last week, Menon's mission was to convey to the government in "the strongest terms" New Delhi's concerns over a string of important issues. His meetings in Colombo originally listed for one-on-one dialogues with President Mahinda Rajapaksa and Defence Secretary Gotabaya Rajapaksa were to later extend to at least two others — talks with Economic Development Minister Basil Rajapaksa and a briefing to Rajavarothayam Sampanthan, leader of the Tamil National Front (TNA).
External Affairs Minister G.L. Peiris was also present when Menon and President Rajapaksa met at a breakfast session.
There was tight secrecy over the number of important issues Menon discussed with President Rajapaksa. There was no news conference nor local media were invited. Even the Colombo-based Indian media corps, who are usually privileged to have a private briefing, had to be content with a carefully crafted media statement from the Indian High Commission. It was circulated to them. Menon spoke only a few words to them other than engage in light hearted banter. The local media were advised through SMS by the High Commission's spokesperson to refer to their website for the same news statement. This is what it said:
Remarks by National Security Adviser Mr. Shivshankar Menon at a Media Interaction in Colombo
(29 June 2012)"My visit to Sri Lanka today has been in the context of regular consultations and exchange of views between the Government of India and the Government of Sri Lanka.
"I called on H.E. President Mahinda Rajapaksa this morning. Foreign Minister G.L. Peiris was also present at the meeting. Thereafter, I met Mr. Basil Rajapaksa, Minister of Economic Development and Mr. Gotabaya Rajapaksa, Defence Secretary. I also met the TNA leader Mr. Sampanthan.
"I discussed recent developments, bilateral relations and areas of common concern. I was also briefed about steps being taken by the Government of Sri Lanka on political reconciliation and settlement. While this is a Sri Lankan issue and something that Sri Lanka has to do, we will continue to remain engaged with all concerned and offer any support required in this regard.
"India has always stood for a united Sri Lanka within which all citizens can live in equality, justice, dignity and self-respect. We have worked closely with the Government of Sri Lanka on relief, rehabilitation and resettlement of IDPs. India's assistance was appreciated by the Sri Lankan leadership in all my meetings. We remain committed to continue our cooperation.
"We also discussed the fishermen's issue.
It was noted that the practical arrangements of October 2008 should be adhered to until an alternative mechanism was agreed upon. We agreed that fishermen's associations on both sides, which had met in the past and reached some understandings, needed to meet again to work on developing this further. This could then serve as the basis for finding a solution to this humanitarian issue.
"On the bilateral front, we noted that most of the Indian-assisted projects were proceeding well and several projects, particularly those relating to the development of railway infrastructure in the Northern and Southern Provinces, were being implemented well ahead of schedule. In the past two years, India has committed US$ 750 million under lines of credit and another US$ 350 million under grants-in-aid. There are a number of other new projects under consideration.
"We also discussed maritime cooperation and other security related issues. It was agreed that we could take this further.
"Sri Lanka is our close neighbour, with whom we enjoy a multifaceted and dynamic relationship. We look forward to strengthening and further developing this engagement."
At least two key factors were the cause for Menon's visit to Colombo. One arose from the report Sushma Swaraj, leader of the opposition in the Lok Sabha, handed over to Prime Minister Manmohan Singh. This was after her return to India following a week-long trip leading an all-party parliamentary delegation. Among the key points she raised with UPFA leaders during the visit was the implementation of the LLRC recommendations "with regard to information on missing persons and detainees, investigation of cases of disappearances and abductions, promotion of a trilingual policy, reduction of high security zones, return of private lands by the military and demilitarization, including phasing out of the involvement of military activities and restoration of civilian administration in the Northern Province."
Ms. Swaraj noted the assurance given by the Government of Sri Lanka in Parliament that it would ensure the withdrawal of security forces from community life and confine their role to security matters.
The second factor is the upcoming Universal Periodic Review (UPR) at the UN Human Rights Council in Geneva. Sri Lanka's human rights record is expected to come up for review in early November. The UPR involves a review of the human rights records of all 192 UN Member States once every four years. It is a significant innovation of the Human Rights Council which is based on equal treatment for all countries.
It provides an opportunity for all States to declare what actions they have taken to improve the human rights situations in their countries and to overcome challenges to the enjoyment of human rights. The UPR also includes a sharing of best human rights practices around the globe. A team headed by Minister Mahinda Samarasinghe, President's special envoy on human rights issues, is now preparing Sri Lanka's report for the UPR.
As the head of a three-nation team, it would be India's responsibility to review Sri Lanka's report together with UNHRC members Benin and Spain. Thereafter, it would go before the Council. This report will hold the key to determine whether or not the human rights issues raised by India and the international community have been accepted and implemented by Sri Lanka.
Thus, the Sri Lanka report is of particular significance in the light of the March 2013 sessions of the Human Rights Council. Matters relating to the implementation of the US-backed resolution, which received Indian backing, have raised questions on the posture to be taken by India. During her visit to Sri Lanka, Ms. Swaraj spelt out New Delhi's stance that India voted for the UN resolution because the Indian government was disappointed Colombo had not fulfilled the assurances given to it.
Menon covered most of these issues during talks with Rajapaksa. The Indian special envoy noted that the subject of reconciliation was entirely a matter for the government of Sri Lanka and New Delhi respected that position. India also appreciated moves by the government to appoint a Parliamentary Select Committee (PSC) to formulate a political package to address Tamil grievances. However, in the light of the current imbroglio, the result of Tamil National Alliance (TNA) refusing to participate until bilateral talks with the government are resumed alongside; Menon made what the Indian government believes is a way out to demonstrate that the Sri Lanka government was addressing reconciliation issues.
He proposed to Rajapaksa that elections be held to the Northern Provincial Council (NPC). He asked Rajapaksa to make a firm commitment through an official announcement. The Indian thinking is that if elections are held to the NPC, it will be a first step in an incremental process for Tamil political parties, which have demonstrated their ability to win the majority of votes in the north, to play a role in administering their areas. This is until such time the proposed PSC is set up to further examine other issues. This step, Menon explained, could give a signal to the international community that measures towards reconciliation had already begun.
A government source said Rajapaksa made clear he was willing to move forward. The source said he explained that he agreed "in principle" that elections should be held to the NPC but it would have to be after demining in all areas was completed and "other necessary conditions" were created. However, the source said the government was "seriously considering" holding NPC elections before the end of 2012.
Yet, the question remains whether a formal announcement would be made in the coming weeks. This is particularly in the light of elections being held to the North Central, Sabaragamuwa and Eastern Provinces. Nominations have been called from July 12 to 19 and speculation is rife that polls will be held on September 8.
Menon made clear to Rajapaksa that India's stance on upcoming international events related to Sri Lanka would hinge on the action taken by the Colombo government. In this regard, he also apprised the President of the compulsions the government in New Delhi was facing from political parties in the southern state of Tamil Nadu.
Already, Dravida Munnetra Kazhakam (DMK) leader Muthuvel Karunanidhi is giving leadership to a Tamil Eelam Supporters Conference (TESO) to be held at Vallipuram in Tamil Nadu on August 5. Karunanidhi, the chairman of the conference, has tasked his son Stalin, DMK Treasurer, to head a reception committee to make arrangements. Five secretaries.– K. Ponmudi (a former State Minister), Dravidar Kazhagam General Secretary Kali Poonguntran, General Secretary, Viduthalai Siruthikal Katchi, General Secretary Ravikumar and DMK functionaries K.S. Radhakrishnan and advocate H.M. Jinnah. South Indian media reports quoted one of them as saying, "We want to hold the conference on the lines of the one held in Madurai in 1986. Besides inviting national leaders, we are planning to bring human rights activists from across the world and international leaders who are supporting the Tamil Eelam cause."
It is unlikely the centre in New Delhi would grant visas to any foreign participants since India has said it has strong stakes in the unity and territorial integrity of Sri Lanka. The question yet remains whether the Indian government would take any other steps to prevent the conference from taking place. This is on the basis that Indian soil should not be allowed to be used to campaign for separation in a friendly country.
After the meeting with President Rajapaksa, Menon drove to the Presidential Secretariat for talks with Economic Development Minister Basil Rajapaksa. The subject of discussion centred mostly on development activities in the north and east. India has committed more than US dollars 1.1 billion on lines of credit and aid grants for development in the war-ravaged areas. Thereafter, Menon drove to the Ministry of Defence for one-on-one talks with Defence Secretary Gotabaya Rajapaksa. The Sunday Times learns that one of the key subjects of discussion was "demilitarisation" in the north.
Whilst Menon emphasised the need for less involvement of security forces in the life of the community, Rajapaksa was to explain the government's position that it was not so. He detailed out the military "de-escalation" in the north and how troops were assisting in development activity.
There was a free and frank exchange of views on the subject, said a government source familiar with the talks. The Defence Secretary entertained Menon to lunch at his Ministry where some senior officials from both sides joined in.
Later, Menon met TNA leader Sampanthan to tell him that the Indian government had requested President Rajapaksa to hold elections to the Northern Provincial Council. He told him that a formal government announcement on the subject could be expected soon. Sampanthan in turn was to tell Menon about what he alleged were "appropriation" of private land by the military. He said this was going on apace.
Sampanthan told the Sunday Times, "We talked with each other about matters of concern. On the question of elections to the NPC, the government has given a number of reasons. It says land mines will have to be removed; the displaced have to be resettled and administrative issues overcome. How did they hold Presidential and Parliamentary elections?" Sampanthan said that since the Provincial Councils were established, there have been no elections to the Northern Province alone. In 1988 elections were held for the North-East Provincial Council. However, the Supreme Court ruled thereafter that the NEPC was not constitutional.
Economic Development Minister Basil Rajapaksa in conversation with India's National Security Advisor Shiv Shankar Menon
After a brief conversation with Colombo-based Indian journalists, Menon flew by helicopter to BIA in Katunayake for his return flight to New Delhi on Friday evening. A diplomatic source who summed up the visit said, "He (Menon) has placed India's cards on the table. How India is going to play the game in the upcoming weeks at international events linked to Sri Lanka will now depend on how much Colombo is able to heed Indian wishes including past assurances given to it. If there is some action, one can see a moderate stance as against inaction leading to a tougher Indian position. That is the essence of the visit."
Other than that, there were also newer realities that have emerged as a result of the visit. One is the minimal or no role by the External Affairs Ministry other than Minister Peiris being present at the meeting with the President. Other than that, India has addressed serious issues of concern to it with only the trio, the three brothers who matter most in Sri Lanka – President Rajapaksa, Economic Development Minister Basil Rajapaksa and Defence Secretary Gotabaya Rajapaksa. It has been agreed that there would be visits by ministers to India and vice versa in the coming months. Menon also agreed to convey to his Prime Minister Manmohan Singh, a request by President Rajapaksa to send the Kapilavastu relics to Sri Lanka. This is during the ongoing Sambuddhatva Jayanthi celebrations.
http://www.sundaytimes.lk/120701/columns/menon-calls-for-elections-to-the-northern-pc-4926.html