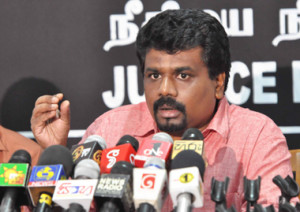 President's humbug commission would not be allowed to conceal mass murders at Matale, despite various commissions have been appointed, people have not heard of any reports of those commissions nor anyone punished for their crimes and the party would never believe justice would be done by such commissions that have been cast to the garbage of history states the JVP.

This was stated by the Member of the Political Bureau of the JVP Anura Dissanayake at a special media conference held at the head office of the JVP at Pelawatta today (10th). Mr. K.M. Wijeratane, whose three brothers had disappeared during this period, Mr. K.D. Gunaratne, whose brother had disappeared, the JVP Member of Pradeshiya Sabha Mr. Sunil Ranaweera, whose cousin had disappeared, former Provincial Council Member Mr. Gamagedera Dissanayake and Attorney H.M. Sarath Wijeratne also participated.
Speaking further Mr. Dissanayake said, "Various propaganda is being carried out through the media regarding the largest mass grave that has ever been found in this country. The JVP has decided to appoint a special committee to carry out a close study regarding Matale mass murders. Mr. K.M. Wijeratane, whose three brothers were murdered during the 88 -89 UNP government's murderous period, Mr. K.D. Gunaratne, whose brother was murdered and Mr. Sunil Ranaweera, whose cousin had disappeared during this period participate in this media meeting. In addition Mr. Gamagedera Dissanayake, who is coordinating affairs in Matale and Attorney H.M. Sarath Wijeratne who is mediating in legal affairs also participate here.
A special group that investigated the mass grave presented a report to the judiciary recently. In it there was information regarding the period and the state of skeletons. Judicial Medical Officer (JMO) Dr. Ajith Jayasena said that 155 skeletal remains were exhumed from the mass grave; there was evidence of decapitation and dismemberment. He has reported that all information has been recorded with Sketches and photographs after careful study and has been stored. According to him many skeletal remains show the owners had been tortured, they were buried in unnatural postures. There had been several skeletons with evidence of severed heads and limbs. There was a skull that had been sawn. A wire used to give electric shock, a hoop of thorns has been found with skeletal remains. This shows that the skeletal remains and skulls unearthed from the mass grave are those of persons who had been cruelly tortured, whose necks were severed from bodies and people who had been subjected to electric shock. Such types of remains have been found only in two instances in recent history.
The investigators have confirmed that the remains were those murdered during the 88 – 89 period. Now the murderers have got scared. The UNP is making various distorted statements. Mr. Lakshman Hulugalla at the Ministry of Defense too has got excited. The UNP as well as the government have been disturbed. Hence, we are confident that a powerful hand would encroach to sweep the investigations under the carpet. Instead of accepting the report of the Judicial Medical Officer they are coming out with other stories.
Hence, we have a justifiable doubt regarding the whole process. The president attempts to appoint a 'humbug commission' to conceal and cover up the incident. How many various types of commissions have been appointed until now? There are no reports of these commissions. There are no offenders or no punishment. We do not believe that justice would be done by such commissions that have been cast to the garbage of history.
We request an independent judiciary process regarding this. If such a court cannot be established legal procedure could be carried out through an existing court giving priority to the process. The UNP and the government hope the incident would be 'obscured by time'. However, the JVP would never allow it to be forgotten or swept under the carpet. The people in the country should be made aware of it. Those who were subjected to the torture and murder should get justice. The murderers who tortured and murdered the legitimate sons and daughters of this land should be punished.
The incumbent President went to human rights commission during the 88 – 89 period. The people would be able to see whether this leader who gets books written that he was a human rights crusader is actually doing a double acting. He should get a comprehensive investigation carried out. Murder of more than 155 persons and bury them en mass cannot be allowed to be buried. We are having discussions with lawyers regarding legal action that could be taken. We are considering whether the ongoing legal procedure is sufficient or whether it is necessary to begin a new process. We hope carry out the maximum legal mediation. The JVP has also prepared a programme to research for more information, gather information regarding relatives of the murdered, have a dialogue with them and form a powerful front amassing all those who have been affected, force the government to act and finally win justice to the victims and their kith and kin."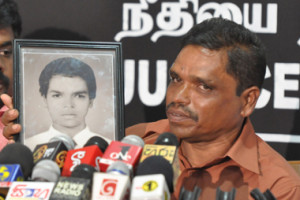 Mr. K.M. Wijeratne speaking said, "My second brother was in hiding. He was shot dead by the Army. When my youngest brother was in the vegetable plot with his friend the Army took them away at 2.00 a.m. They were detained at Vijaya College for about one and a half weeks. Later, he disappeared. Not even his body was found. Next was the eldest in the family. Army personnel in civilian clothes abducted him from home. He was detained at Thavalamkoiya camp. There is no news about him until now. I suspect that my brothers may have been buried at this mass grave. I want justice done to them."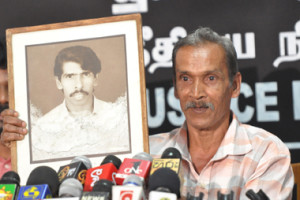 Mr. K. D. Gunaratne said, "K.D. Illangaratne was my elder brother. He went to Matale town on 13th November, 1989. He was abducted by an unidentified group. We still don't know about his whereabouts. I suspect that my brother's skeleton could be in this mass grave. I hope legal procedure would be carried out properly."
Mr. Sunil Ranaweera said, "My cousin lived in a house at Palleveheeragama in Ratthota in November 1989.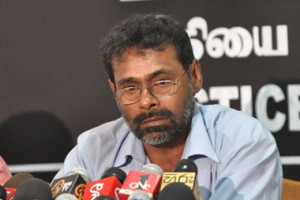 A special raiding group of the Army arrested youths during this time. They were detained at Vijaya College in Matale. My brother was tortured by the Army and was hospitalized. Later, we heard that he was murdered. I do not have even a photograph to show. The murderers should be brought before the law."
Attorney H.M. Sarath Wijeratne said, "The evidence presented here today is enough to reveal to the country that murders have been committed. From the speeches made earlier and from the media you know that several skeletal remains have been
unearthed. The police have reported it to the Magistrates Court. The court, through the Judicial Medical Officer, has determined that the skeletal remains belonged to 88 – 89 period. A group of people who are related to it and believe they have a responsibility and that justice should be done are providing information. They think skeletal remains of their brothers or relations could be in the mass grave. As lawyers we advise them on legal matters. According to criminal law this cannot be pushed under a carpet and legal action can be taken whatever period it belongs to. The police have an opportunity to fulfill justice."
Responding to a question from a journalist Mr. Dissanayake said, "We do not have any trust in a presidential commission. What happened to commissions in history does not allow us to have any trust in them. This presidential commission is to sweep the incident under the carpet and to waste time. We ask for a judiciary process regarding the matter. There are enough facts for such a process. There was definite information about the time. This was stated in court. It is revealed that they had been tortured. Now relatives have come forward saying their kith and kin were murdered, and disappeared. What is needed now it to commence a special judiciary process. Alternatively, a court should be named that gives priority for the hearing of Matale incident. It should be a special court that does not postpone hearings. If the President wants he can have his committee.
Some give various definitions for the MBBS degree. Some get a degree the type of a helper to a mason. Some of our deputy ministers have such degrees. Hence, what is important to us is not the statements made by deputy ministers who have degrees of a masons assistance but information given by a doctor who has a special degree on forensic medicine and a professor who has specialized in geology and archeology. We do not accept stories of bragging media director generals or Nandimithra Ekanayake. Reports of the qualified persons have been presented now. Various stories are told to protect murderers and divert the attention elsewhere. The government may carry out investigations speedily if only the UNP was involved. However, the government is moving sluggishly and is attempting to hush it up as it is not only the UNP that is responsible for the incident. During Chandrika's time various commissions were appointed regarding the 88 – 89 period. In those reports names of UNP politicians and Army officers responsible for incidents were mentioned. Most of them are with the government now. Government's delaying tactics show that it is not only the UNP that is responsible."