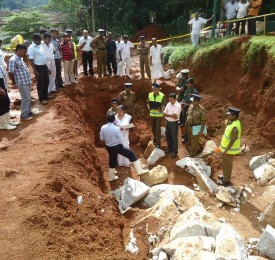 The mass grave (photo: Sunday Times)
Skeletal remains of sixteen more humans had been found at the site of a mass grave at the Matale Hospital during the past three days, bringing the total body count to twenty seven (27). Authorities involved in the exhumation believe there could be many more bodies at the same site.
The skeletal remains of six persons were initially discovered on 30 November at the site of the proposed bio-gas unit of the Matale hospital. The discovery was made by workers digging trenches for the foundation. Subsequently, remains of five more persons were exhumed by the authorities, leading to widespread speculations as to the number of bodies in the mass grave.

Dr. Shanthi Samarasinghe, medical officer attached to the Judicial Medical Office (JMO) of the Matale District, confirming the latest find, said excavations will continue as they believe there could be more bodies buried at the site. "We have decided to continue with the excavation as there may be more skeletal remains," she said, adding that none of the skulls, femurs, jaws, teeth and other bone fragments exhumed so far had been sent to Colombo for medical investigations or DNA testing yet.
However, JMO's office would be sending all the unearthed remains to Colombo, once the exhumations are completed.
Meanwhile, the local medical consultant of the Matale District has requested the assistance of the Colombo JMO to carry out the investigation.
Ceylon Today learns a special police forensics team attached to the Police Headquarters in Colombo is expected to be sent to the scene where the mass grave was found. A senior police officer attached to the Matale Police said plans are underway to hand over the investigations to the Criminal Investigation Department (CID), as the number of skeletal remains exhumed has increased.
The Matale Police, which is currently conducting preliminary investigations, is expected to submit a report containing the preliminary findings, along with the JMO's report, to Police Headquarters.
Police say preliminary investigations into the skeletal remains have indicated the remains to be over 20 years old. Forensic and police sleuths conducting the investigations have not yet uncovered how the persons buried in the mass grave would have died.
Several reports have indicated the remains found to be of those n killed either during the 1971 or the 1988-89 JVP insurrection.
By Madusha Erandi
CT