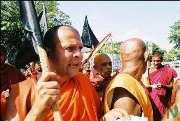 A few persons introducing themselves as the officials of the Criminal Investigation Department (CID) have walked into two mosques in Matara on Thursday and questioned the devotees there whether they were planning to stage any agitation against the government , according to Western Provincial Councillor Mujibur Rahman.

He said that certain racist elements were behind incidents of this nature and called upon the Muslim organizations and leaders to form a coalition to fight against the repeated intimidations targeting Muslims and their places of worship.E said He
"On Thursday a few persons introducing themselves from the CID have barged into two mosques in Matara, namely the Mohideen Jummah Mosque and Al Meerah Jummah Mosque. They had questioned the devotees present there whether they were propagating against the government and the Buddhists in the country.
"This attitude is thoroughly disturbing. Already the mosques have been targeted by the racist elements in Dambulla, Kurunegala and Dehiwala," Rahman said.
According to the Western Provincial Councillor some people have even carried out a campaign against the Muslims in Alpitiya and Galle, where they have requested the people in those areas not to purchase goods from the shops. They have also told the Muslim shop owners to close down their shops.
While accusing the government of not taking notice of racist elements, Rahuman said their activities would lead to damage the coexistence between various communities in the country.
By Azra Ameen
CT