D.B.S.JEYARAJI
ndian Prime Minister Manmohan Singh is "extremely annoyed"by Sri Lankan President Mahinda Rajapaksa's recent subtle efforts to undermine the quantum of devolution provided to the Island's nine Provinces through the thirteenth Amendment to the Sri Lankan Constitution that was facilitated by India.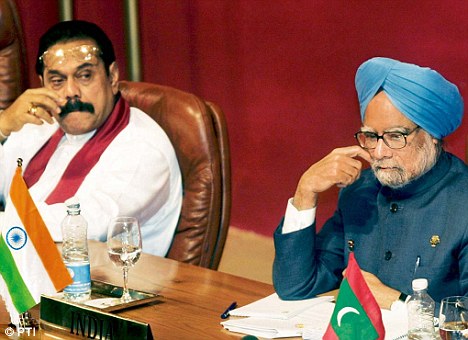 President Rajapaksa & Prime Minister Manmohan Singh-file pic- via PTI
According to informed Indian sources the usually mild –mannered Manmohan Singh known for his gentle and genteel ways had in uncharacteristic fashion "almost blown a fuse"when informed of recent efforts by President Rajapaksa to amend the Sri Lankan Constitution in a manner that would seriously undermine the devolution arrangements enabled by the 13th Constitutional Amendment.
Circles linked to the Indian external affairs establishment referred to as "South Block"speaking on condition of anonymity revealed that the Indian Govt in general and the Prime minister in particular were of the view that the Rajapaksa regime's attempts to introduce the 19th Constitutional amendment at this juncture was an "expression of bad faith".

According to these sources Prime minister Singh known for his docile demeanour had reacted "rather angrily" to details of the proposed 19th amendment as it had potentially drastic implications for the future of the Provincial councils in Sri Lanka.
ASSURANCES
The Indian Premier had apparently been irritated as he considered the proposed move to be a violation of "sincere assurances"provided to him directly by President Mahinda Rajapaksa on more than one occasion.
While New Delhi was expecting Colombo to go ahead with its pledges and implement the thirteenth amendment in full after holding elections to the Tamil majority Northern Provincial council, the recent move to amend the
Constitution amounted to a display of bad faith in this regard.
According to Indian sources close examination of the draft proposals had shown that the amendment though seemingly innocuous at face value has the potential to cripple provincial councils and reduce them to an "empty shell" in the future.
The provisions to do away with safeguards restricting Parliament's power to tamper with areas clearly allocated to the provinces is perceived as being fraught with deadly consequences in the future. Hypothetically the Central Govt can in the future pass new laws without any restriction reducing or denying some or all powers in matters allocated to the Provincial councils at present.
Currently all councils must unanimously approve of such changes concerning their powers. Any Provincial council has the power to reject any such law if it so desires.In such an eventuality Parliament can if it wants to pass the law with a two-thirds majority. Even then it would not apply to Provincial councils who reject the law.
TENDENCY
These provisions help ensure that the Centre does not take back powers devolved to the periphery in an arbitrary manner.Within Sri Lanka's ethnically divided society such provisions would help curb the tendency on the part of the Sinhala dominated Central Govt to diminish the scope and scale of devolution provided in a manner affecting the Northern and Eastern Provinces.The new amendment however will enable the Govt to circumscribe devolution through new legislation with the backing of five of the Sinhala dominated Provincial councils even if the Northern and Eastern provincial councils object.
What has aroused much indignation in the corridors of power in South Block is the puerile attempt by the Rajapaksa regime to take India for a ride.It was only a few weeks ago that the Indian external affairs minister Salman Khurshid telephoned his counterpart Prof.Gamini Lakshman Peiris and obtained an assurance that prevailing powers of the provincial councils would not be removed or diluted.The intended new amendment would negate that assurance and create the conditions for the Govt to circumscribe devolution including Police and land powers if and when it wanted to do so in the future.
An irate Indian official who did not want to be named said that the Sri Lankan Govt was aiming at reducing the powers of the provincial councils and turning then into "empty shells" while assuring India that they would not do away with the 13th amendment and would implement devolution in full. "Are President Mahinda and Prof GL thinking that we in New Delhi are blithering idiots who can't see through their hocus pocus"? he asked.
AGREEMENT
The 13th Constitutional Amendment and related legislation pertaining to the setting up of Provincial councils in Sri Lanka was drafted by Sri Lankan authorities in consultation with Indian authorities in 1987. The 13th Amendment was brought about by the signing of the India –Sri Lanka agreement in Colombo by Indian Premier Rajiv Gandhi and Sri Lankan president Junius Richard Jayewardene on July 29th 1987.
The accord was aimed at preserving the unity and territorial integrity of Sri Lanka and ensuring a quantum of devolution to the provinces including the Northern and Eastern provinces regarded as areas of historic habitation by the Tamil and Muslim people.
Due to multiple reasons chief of which was non –cooperation by the Liberation Tigers of Tamil Eelam (LTTE)organization the accord has not been implemented in full to date. The envisaged quantum of powers is yet to be devolved in full to the Provincial councils while the Northern Provincial council has not been formally constituted through Presidential proclamation.
New Delhi has been perturbed in recent times by Colombo's marked reluctance to implement in full the scheme of devolution provided through the Provincial councils.There is a trail of broken promises to New Delhi by Colombo in this respect.
India has provided "advice" through a written document called "The way forward"about ways and means of letting Provincial councils exercise maximum devolution without further Constitutional amendments.This however has been seemingly dumped in the "dustbin of history".
PLEDGES
India provided much assistance to Sri Lanka's war efforts against the LTTE despite opposition by substantial segments of the population in its Tamil state known as "Tamil Nadu".Again there were solemn promises extended to India at multiple levels of the upper echelons of the Rajapaksa regime that full devolution would be provided to the "elected" Provincial councils of the North and East after the war was over.Those pledges too have been observed in the breach so far.
There have also been several occasions where President Mahinda Rajapaksa has assured Manmohan Singh and other senior Indian officials that he would implement full devolution.Rajapaksa even went to the extent of saying he was for "!3th Amendment Plus"meaning he would concede a greater quantum of devolution than what was available through the 13th Constitutional amendment.
Senior Sri Lankan officials,diplomats and ministers too have on different occasions assured their respective Indian counterparts that the 13th Amendment would be implemented in full.Nothing substantial however has occurred in this direction.
Indian informed sources when asked whether President Rajapaksa was reluctant to deliver on his promises to India due to political constraints or pressures within his family circle or Govt replied in the negative.
"That impression is not correct we think.There is really no effective opposition to greater devolution in the country. All the so called protests are tea – cup tempests.President Rajapaksa can withstand all the protests and carry the country at large with him if and when he wants to implement full devolution.Nowadays we feel that the so called protests are all orchestrated by elements close to the President himself" said these sources adding that "Prime minister Singh is fully cognizant with this assessment".
DISAPPOINTMENT
Indian officials said there was deep disappointment within "South Block"over Sri Lankan external affairs minister Prof Gamini Lakshman Peiris."Much was expected of him as he was viewed as an Oxford educated brilliant academic and gentleman. But he too is saying one thing to us and doing something different" said the sources.
Asked to elaborate further the sources said that "the essence of what Prof.Peiris conveyed to our minister was very positive. But now we find him presenting a very negative cabinet memorandum seeking to amend the 13th amendment further and weaken it".
When queried as to what Prime minister Manmohan Singh would be doing in this instance if he was "really angry" at President Rajapaksa's conduct, the sources said that the Prime minister would not do anything rash or impulsive but would take effective steps to address the situation.
Asked as to what these steps were likely to be, the sources declined to answer specifically as it was too early. A process of consultations would be initiated first stated the informed sources.
It is learnt reliably that New Delhi is to commence a series of consultations with all stakeholders in the near future over this issue. This would comprise high level meetings in New Delhi with important Sri Lankan political parties including the Tamil National Alliance(TNA),Sri Lanka Muslim Congress(SLMC) and the chief opposition United National party(UNP). It is very likely that the TNA may be invited first for discussions in New Delhi.
A round of talks with the ruling All India Anna Dravida Munntra Kazhagham (AIADMK) chief minister Ms.Jayalalithaa Jayaram, Tamil Nadu opposition leader Vijayakanth of the Desiya Mutpokku Dravida Kazhagham (DMDK), veteran Dravida Munnetra Kazhagham (DMK)leader Muttuvel Karunanidhi and Congress party leaders and ministers P,Chidambaram and GK Vasan would also be conducted.
PROPOSALS
Two other proposals being mooted are to form a think tank consisting of knowledgeable persons in Tamil Nadu with great insight into Sri Lankan affairs and obtain their views. This proposal is likely to be implemented through Tamil Nadu officials of the Congress party.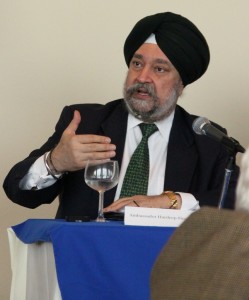 Shri. Hardeep Singh Puri-pic courtesy of: unausa
Another and more important proposal is that of Prime minister Manmohan Singh appointing a special adviser cum envoy to coordinate and handle matters concerning devolution in Sri Lanka. It is felt such a special representative of the Indian Prime minister dealing specifically with Sri Lankan devolution matters could be more effective and efficient in the current context.
This appointment if made would be on the lines of the role played by Gopalaswamy Parthasarathy during the time of Prime minister Indira Gandhi. Among persons being considered for such an appointment is former Indian envoy to the United Nations in New York Shri. Hardeep Singh Puri who retired from the Indian foreign service a few months ago.
Hardeep Puri who served as Political secretary at the Indian High Commission in Colombo during the tenure of former Indian envoy Jyotindra Nath Dixit played a constructive role in the formulation of the Indo – Lanka accord. The ebullient Hardeep Puri who is a turbaned Sikh like Manmohan Singh was described as "irrepressible" by Dixit once. Many in South Block opine that Hardeep with his expertise on Sri Lankan political developments and his hands on experience in matters relating to the 13th amendment could play a positive role in ironing out matters in the current situation
INTRIGUE
If the Indian establishment is truly irked and Prime minister Manmohan Singh irritated by what is perceived as political intrigue by the Rajapaksa regime aimed at scuttling meaningful devolution in Sri Lanka the coming weeks are likely to be eventful. We may soon witness many passages to and from India by prominent politicians and officials on either side of the Palk Straits.
DBS Jeyaraj can be reached at ~ [email protected]