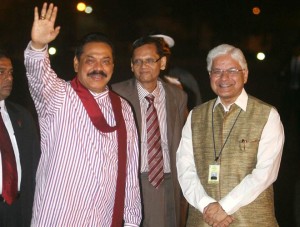 Rajapaksa also called on President Pranab Mukherjee.
India Thursday pressed Sri Lanka to speed up the process devolution of powers so that the Tamil citizens of the island nation can live in dignity and underlined the need to treat fishermen straying across maritime boundary humanely.
Prime Minister Manmohan Singh met Sri Lanka President Mahinda Rajapaksa and discussed a cluster of issues that impinge on bilateral relations, with the two sides deciding to intensify economic and cultural ties.
Manmohan Singh also hosted a private dinner for the Lankan leader at his 7, Race Course Road residence which was attended by a select list of invitees.

"Both the meetings consisted of discussions in a restricted format, followed by meetings along with delegations. Each of the two meetings lasted more than 40 minutes each," said official sources.
"The meetings provided an opportunity to comprehensively review all matters of mutual interest. This was the first detailed discussion of all substantive issues since June 2010," said the sources.
During the talks, Manmohan Singh raised the issue of devolution of powers so that the Tamil citizens of Sri Lanka can look forward to a future where they can live with dignity and respect, said the sources.
Updating India on steps taken by his government on its efforts for the rehabilitation of war-displaced Tamils in the island nation, Rajaspaksa conveyed that provincial elections were held in three provinces and that administrative and other steps are underway so as to hold elections in Northern Province.
Rajapaksa also stressed that despite recent "unfortunate" attacks on the Lankan pilgrims and tourists in Tamil Nadu, bilateral relations will not be harmed in any way.
With fishermen straying across the maritime boundary becoming an emotive issue in Tamil Nadu, Manmohan Singh also emphasised on the need to treat such fishermen humanely. "Both agreed that it would be best for fishermens' associations to meet and discuss these issues further."
In an important step that dispels the impression of straining relations between the two countries after India voted against Sri Lanka in the UN Human Rights Council in Geneva in March, the two sides decided to intensify their economic relations further.
"Both noted the momentum of economic ties and assessed the growth of commercial relations positively," said the sources.
Rajapaksa also thanked Manmohan Singh for the Kapilavastu relics expositions, which signified the strong cultural ties between the two people. More than 3 million Sri Lankans were able to pay their respects.
This is second visit of Kapilavastu relics to Sri Lanka since 1978.
Rajapaksa began a three-day visit to India Wednesday night. He has been invited by the Madhya Pradesh government for the foundation stone-laying ceremony of the University of Buddhist and Indic Studies in Sanchi.
His visit comes amid anger in sections in Tamil Nadu about the alleged persecution of Sri Lankan Tamils during the last phase of the war with the LTTE that ended in May 2009.
In Madhya Pradesh, around half-a-dozen supporters of MDMK protesting the visit of Rajapaksa were detained at Salamatpur near Sanchi, police said Thursday.
MDMK general secretary Vaiko, who arrived in Nagpur with over 1,000 supporters on way to Sanchi, Wednesday attacked the central government and the Madhya Pradesh Bharatiya Janata Party (BJP) government for inviting Rajapaksa.
In March, India voted for a US-backed resolution on Sri Lanka at the UN Human Rights Council in Geneva. India said it was aimed at speeding up the reconciliation process in the island nation.