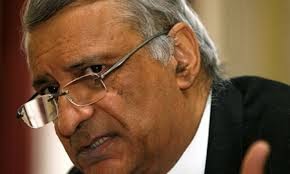 Sharma is not a baby, says mangala
United National Party (UNP) parliamentarian Mangala Samaraweera said today the Hambantota incident was further evidence of the violation of the Commonwealth Charter and urged Commonwealth Secretary General Kamalesh Sharma to remove President Mahinda Rajapaksa from the post of Commonwealth Chairman. "Mahinda Rajapaksa is not Gaddafi. He is the Chairman of the Commonwealth and therefore he is bound to uphold the Commonwealth Charter. However, what happened in his electorate is evident that he has violated the Commonwealth Charter. Therefore I urge the Secretary General to call for a meeting of the Ministers and expel Mahinda Rajapaksa as the Chairman after considering the violations of the Charter," he said.
Mr. Samaraweera said it was Sharma who was responsible for Mahinda Rajapaksa's induction as Commonwealth Chairman.
"Sharma is not a baby, he knows what this regime is doing," he said and added that by describing the attack as the reaction of the people, the President was shielding the thugs who led the attack.
"The President has tried to portray that this as a reaction of the people. That clearly indicates that the President is defending these thugs who blatantly attacked parliamentarians. This is a furtherance of this thug culture. He is the Leader of the state and the Minister of Defense and the Minister in Charge of Defense and coming to the rescue of these thugs he has shown who the godfather of this thug culture is," Mr. Samaraweera said.
In a scathing attack on the conduct of the Police, he said the entire Police top brass have transformed into "boot lickers" of the regime.
"The Police of Sri Lanka was one of the disciplined and dedicated forces in the entire South East Asia region. That was the reputation of the Police in the days gone by, but today the police are boot lickers the Medamulana walawwa and that is embarrassing. The main bootlicker of this regime is the present Police spokesman," Mr. Samaraweera said.