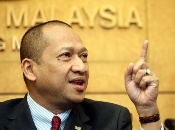 Datuk Seri Nazri Aziz.
A Parliamentary Caucus on the Abuse of Human Rights in Sri Lanka has been set up, announced Minister in the Prime Minister's Department Datuk Seri Nazri Aziz.
Nazri said members from both sides of the divide agreed to the caucus as they viewed with great concern the alleged human rights violation in Sri Lanka, including against the ethnic Tamil minority group there. The caucus will continue to monitor the progress of the United Nation's resolution on the matter.

"We will also send a letter to ask them what action has been taken thus far. We have nothing against the country (Sri Lanka) but are looking at the human rights abuse against the Tamils. The persons responsible must be brought to justice," he told a press conference at the lobby yesterday.
The UN Human Rights Council had in March adopted a resolution urging the Sri Lankan government to act against alleged human rights violations and war crimes during the end of the civil war with Tamil rebels.
Nazri said the caucus opposed Sri Lankan president Mahinda Raja­paksa's presence in Malaysia.
It was reported on Monday that Rajapaksa would not be attending the World Islamic Economic Forum (WIEF) in December in Johor due to "unavoidable circumstances".
His invitation had created strong objections.
The 25-member caucus, which includes MPs of all races, is headed by Deputy Minister in the Prime Minister's Department Datuk S.K. Devamany (BN-Cameron Highlands). The caucus will meet on Dec 18
The Star