Literally, this picture is worth more than a thousand words.
It shows former Navy Commander Wasantha Karannagoda and current Defense Secretary General Kamal Gunarathne having a friendly chat during the Ananda Nalanda big match last weekend.
Wasantha Karannagoda is a suspect of the well-known case of abducting and killing 11 youth by the Sri Lankan Navy. Colombo Magistrate Ranga Dissanayake has issued four warrants to arrest and produce him in the courts. On three previous occasions, the police reported to the court that they couldn't find him to hand over the warrant. Therefore, on the fourth occasion, the Magistrate ordered the police to issue the warrant through the Defense Secretary General Kamal Gunarathana.
In the above picture, Wasantha Karannagoda is now publicly appearing with the Defense Secretary to show that both of them do not care about court order at all. What would have happened to the warrant issued by the magistrate to arrest Karanangoda through the Defense Secretary? Is it in Kamal Gunaratne's trash bin? Has a court order become worth less than toilet papers today in Sri Lanka?
One of the hallmarks of a democratic society is that all are equal before the law. But according to a Gotabaya's minister Bandula Gunawardena, this is not the case. He has openly said that Wasantha Karannagoda has the right not to appear before the court because he is a former Navy Commander.
What would happen if the court issued a warrant for the arrest of people like us? The police will come and pick us up immediately. We have seen former ministers Champika Ranawaka and Ranjan Ramanayake being taken into police custody in a quick time.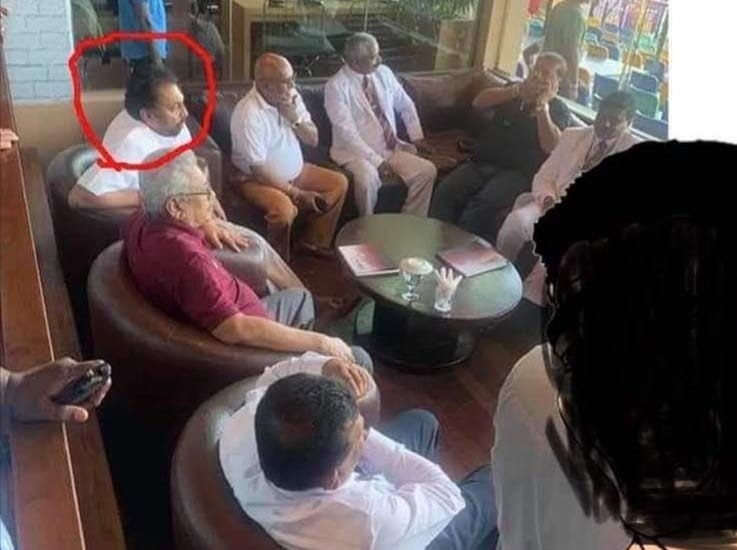 Is there a separate law for the Rajapaksa pets and a separate law for other people?
At the 2019 presidential election, Gotabhaya Rajapakse campaigned on the promised to build a disciplined society. What disciplinary rule can a president expect from a Secretary of Defense when he allows him to disregard court orders? Apparently their disciplinary rule is the power to disobey the law if they want to.
The message Admiral Wasantha Karannagoda and General Kamal Gunaratne send to the courts are clear. That is, "we will not allow to take our people into custody and will not obey court orders."
This message is intimidating. Disobedience and contempt of court.
Further, it should be noted that the Commission of Inquiry appointed by Gotabhaya Rajapakse has given orders to the Attorney General Department to halt above mentioned the case involving Admiral Wasantha Kottegoda.
Above all, this is a harbinger of the dictatorship that is to take place in the country after the general election. If Rajapaksas will be able to secure a two-thirds parliamentary majority we can image the disciplined society we will be living in.
(Opinion by the anonymous )