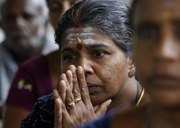 The Illankai Thamil Arasu Kachchi, the major partner in the Tamil National Alliance yesterday resolved to call for the remerger of the Northern and Eastern provinces. The proposal was approved at the party's General Council held in Batticaloa ahead of today's annual convention.
A senior member said that in future talks with the government, the party would be calling for a solution within the merged Northern and Eastern provinces.
Among the other proposals approved are to call for the demilitarization of the north and east, to campaign against state-sponsored colonization, equal rights for the Tamils and the resettlement and development in the two provinces.
At the General Council meeting R. Sampanthan was re-elected as the leader of the ITAK and Parliamentarian Mavai Seanathiraja as the General Secretary

By Chris Kamalendran
ST