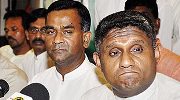 The problems faced by the country, from deprivation of human rights to bribery, can be solved entirely with the implementation of LLRC recommendations and the 13th Amendment, claimed UNP deputy leader Sajith Premadasa.
"We believe that for a united Sri Lanka to become a reality, the implementation of the 13th Amendment to the Constitution is a necessity
. Only then will we find the answers to the problems faced by the country. The LLRC report is the government's child. The report is a product of the government and refusing to implement it to the letter, is similar to parents abandoning their child", Sajith Premadasa said at a press conference yesterday.
"For Sri Lanka to be a true democracy we need an independent police, a bribery commission, an elections commissioner and a public service commission, we also need to permit freedom of information. Every citizen must be granted equal rights, instead of restricting the rights of people of particular races". He added that many of the Tamil and Muslim families in the war affected areas are single parent units as their husbands and fathers were killed during the war. He suggested that the government provide these families with funds, houses, and an education for the children. He reiterated that all of this can be achieved with the implementation of the LLRC report and the 13th Amendment.
In conclusion, Sajith mentioned that he came to know that External Affairs Minister G. L. Pieris, MP, will be preparing a mechanism to implement the LLRC recommendations. The government should make public how the LLRC report will be implemented. He added that there are no translated copies of the LLRC report into Sinhala and Tamil, which contributes to the government's dubious behaviour regarding the report. According to Sajith Premadasa, appointing a committee to implement the LLRC report is redundant, and that it is the government's duty to implement it.

By Megara Tegal
CT