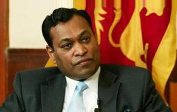 K. Amunugama
An Action Plan to implement the recommendations of the Lessons Learnt and Reconciliation Commission (LLRC) will be ready soon, External Affairs Ministry said yesterday. "It is being prepared by a Committee headed by presidential secretary Lalith Weeratunga with the assistance of many other stakeholders including the Ministry of External Affairs," Ministry Secretary K. Amunugama said.

He said no specific date could be given about when it would be ready but that it would be ready soon.
Mr. Amunugama confirmed that External Affairs Minister G.L. Peiris had not given a written document to US Secretary of State Hillary Clinton but the government plans to implement the LLRC recommendations had been verbally communicated.
He said contrary to certain public perceptions, the Ministry of External Affairs has a strong relationship with the Ministry of Plantations and the two Ministers have regular consultations with each other to arrive at common policy decisions. (Ayesha Zuhair)