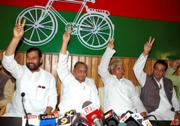 Ram Vilas on the left
Strongly supporting the creation of Tamil Eelam, the Lok Janshakthi Party president Ram Vilas Paswan on Sunday favoured a referendum under the supervision of international community to determine the future of Sri Lankan Tamils.

Participating in a candle light vigil on the Marina in Chennai in remembrance of the lives lost during the final stages of the civil war at Mullivaikkal in May 2009, Mr. Paswan said all those involved in the massacre of Tamils in May 2009 should be punished. With reference to Santhan, Murugan and Perarivalan, the three convicts facing death sentence in the Rajiv Gandhi assassination case, Mr. Paswan said it was not about individual cases but death sentence should be abolished in total and Socialists had voiced against capital punishment.
Mr. Paswan, along with MDMK general secretary Vaiko and other pro-Eelam leaders in the State, paid homage to a temporary structure on the Marina in memory of the people killed during the war. Hundreds of people turned up for the candlelight vigil.