Image: "Also, there is no meaning when politicians and the top-level officials of related to the fisheries sector are using their power and misusing the law. If so, what is the use of our Fisheries Assembly, Fisheries Committee ?" they added..
"We do not know to do any other jobs. We are the traditional fishers and Fishers who are engaging only with small scale fishing. But, now our livelihood has been threatened by migrant fishers and our lives are faced with many, day to day problems without sufficient financial strength. Not only that, using of illegal fishing gears by those migrant fishers have become a serious menace, they destroy the lives of our traditional fishermen and destroy the resources of Northern Sea and beaches too." said Fisher leaders who came to Mullaithivu from several fishing areas in Jaffna and Mannar.
"Like this, we can not be hopeful of our occupation in future. No hope and any assurance for our Children of the continuity of the same occupation. Migrant fishermen who come to our waters (northern Sea) from South, use illegal equipment & methods– because those are destructive fishing gears such as Light course, Surukku and Lila nets for fishing and also use tractors for traditional fishing gear calls 'Beach – Seine' where it destroy all the Sea resources." they said.       
Northern Fishermen belong to Mannar, Kilinochchi, Mullaithivu and Jaffna districts and they are  Tamils, the majority are Catholics as well as Hindus, have been engaged in small scale fishing industry for long years. They do their fishing in shallow waters and they earn daily emolument.
"We have lost our entire lives due to 30 years-long civil war. Even after ending the war, we do not get peaceful lives as we have no proper space to do our occupation in our waters itself. Like others, we do not go around the country for fishing. We engage only our waters." They said.
Also, they said that already the government has introduced the law against the illegal fishing gears thinking about the future of the fishing community and to protect the sea and its resources, but there is no meaning because of migrant fishermen are breaking all those rules and using all those destructive fishing gears in our waters.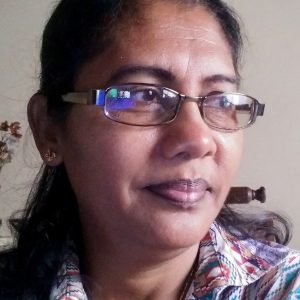 "Also, there is no meaning when politicians and the top-level officials of related to the fisheries sector are using their power and misusing the law. If so, what is the use of our Fisheries Assembly, Fisheries Committee ?" they added.
In the Fishing sector, there are many small committee and societies which have formed officially by fishermen themselves to plan, take decisions and to work within their own discipline for their well-being. This system is being implemented and followed by fishermen and Fisher societies in the Northern Province very strictly.
"We the northern fishers, Tamils are following all the rules implemented by the Ministry, Department and also our Assembly because we need to protect our livelihood as well as our Sea and its resources." Further commented Fisher leaders – Sivakumar, Prasanthan, Warnakulasingham, Annarasa, V.Ragitha and Vasanthaliee.
According to them, after ending the war, with the approval of the Fisheries Department, 32 migrant fishermen have been registered allowing fishing in the Northern Sea. After some times this number increased up to 72. Again the number grew up to 150. This approval was given with some conditions set by the Department.
"But they never fulfilled those conditions and did not monitor the engagements of migrant fishermen properly." They added.
 "Finally, by now there are 260 registered migrant fishermen who come regularly to our waters and continue their occupation. Also, 250 non-registered migrant fishermen are also engaging in fishing in our waters and destroy all the resources and our lives too." They added.
"Many Fishermen from Negombo, Chilaw, Mahawewa, Wennappuwa, Puttalam, Kalpitiya and Mannar, also few fishermen from Galle, Matara districts are engaging in our Northern waters as migrant fishermen. Also using Tractors for 'Beach – Seine' fishing method which normally uses 30 to 40 manpower, is a very big threat to our lives, livelihood and to the Sea. Therefore, we the northern Small Scale Fishermen are leading very frustrated lives." Added northern fishermen and fisher leaders.   
But, according to the Ministry of Fisheries and Aquatic Resources Development, in Sri Lanka, the use of illicit fishing methods including the use of purse seine nets, namely Laila and Surukku nets, were strictly banned from February 21, 2016, by the government.
A research conducted by National Aquatic Resources Research and Development Agency (NARA) has found that the total fish population of Sri Lankan waters is decreasing in an alarming rate due to the illegal fishing methods carried out in sea areas around the island. The decline has been attributed to the use of purse seines which was an illicit fishing method that Sri Lankan fishers have been practicing for 32 years.
Using Tractors for traditional 'Beach-Seine' fishing method
Normally, for this fishing method Maadal (in Sinhala) Beach-Seine uses manpower of 30 to 40 labors. That means it gives occupation for such amount fisher labors both men and women. They use only hands and their energy to engage with the beach-Seine. 
Fishermen and Fisher leaders said that there are 26 Tractors which are being used for this purpose in Wadamarachchi north Sea. 
According to Herman Kumara the National Convener of National Fisheries Solidarity Movement (NAFSO) and the Special Invitee of World Forum for Fisher People (WFFP) explained about the Beach-Seine fishing method and its function. NAFSO is the one and only None Governmental Organization who works and stands for the rights of Small Scale Fisher Folk in Sri Lanka.
"In 2004,[the recent research data of FAO] says, it contributes 21.5% of the total marine catch which is 54,410 Metric Tonnes. Usually, the duration of the Beach Seine operations is conducted from January to April and October to December, two seasons in each year."
 The size of the crew is 30-40 or maybe goes up to 60 in some cases depending on the length of the net. Average 1/3 to 2/3rd are women those who work in each beach seine. When we consider the economic status, poverty, and vulnerability of households involved in beach seining, they are living under widespread poverty among fisher folk.. Many are exposed to absolute poverty. Beach seines are essential for food security of beach seine crews. As many of them are living below poverty line the beach seine operations, the normal practice is very important to provide fish for the operators as well as for the rural poor communities/ villages."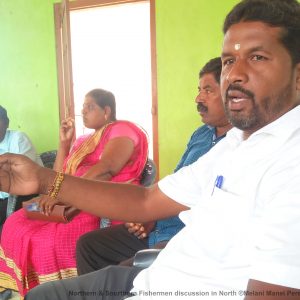 "Once, the tractors are used, the Beach Seine the need and importance of crew members become less and less. Hence, the poor and vulnerable groups are being pushed from the poor state to destitute conditions. No additional income and no alternative income avenues are available for those people. Because, when the operators use one tractor, more than 30-40 crew members become jobless. In the Beach seine regulations, it is indicated the type of gears the operators can use. It comes under the non-mechanized sector which is important not to harm shallow water areas where the coral patches, fish breeding grounds are situated. Once, the use of tractors, it caused to damage coral reefs as well as sea bed which is harmful for the sustenance of fisheries. Also, the large parts of the Beach Seine catches are consumed by rural and urban poor and essential for their nourishment. There is a  big challenge to Beach seine operations due to from coastal tourism and also offshore development.  There are some regulations enacted by the fisheries department as it has identified the important role played by the Beach Seines. 1. The Fisheries and Aquatic Resources Act No.2 of 1966; 2. Maadel (beach seine) Regulations of 1984; 3. Fishing Operations Regulations of 1996; 4. Inland Fisheries Management Regulations of 1996 are the main fisheries management measures for Beach Seine fishery. 
 Once we consider the Beach Seine Regulations, 1984, those regulations have ceased to be effective as far as the regulation of fishing effort and of the types of craft and gears are concerned that can be used for beach seining in the designated beach seine fishing areas as technologies have changed since regulations were promulgated in 1984.  So, to regulate the use of tractors, these regulations should be tightened and enforced fully. The fishing operations regulations of 1996, are not effective as far as protection of fishing grounds from the intrusion of mechanized vessels are concerned.
National Fisheries Solidarity Movement (NAFSO) will raise this crisis of the northern Small Scale Fishers on the World Fisheries Day Commemoration which will be held at Kularathne Hall at Buddhist College, Matara on the 09th of November,2019.
The field visit to Mullaithivu, Wadamarachchi, Thaaladdy, Aalambill arranged by National Fisheries Solidarity Movement (NAFSO).
Video :Anthony Jesudasan the Coordinator for Peoples to People Dialogue (PPD) of NAFSO explaining about the harm of using TRACTORS for Beach-Seine
Tamil to Sinhala Translation by Anthony Jesudasan.
END.