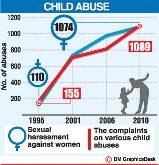 HR groups concerned:
24 June 2011/By Susitha R. Fernando
Several human rights and women's organizations yesterday expressed shock and concern on a dangerous trend since of late to impose lenient jail terms and suspended sentences for persons convicted in cases of sexual abuse, rape and child molestation.

A study carried out by Lawyers for Human Rights and Development (LHRD), has found that since 2008 there had been a trend in imposing suspended sentences in cases of rape and child molestation.
The human rights organization stated that this had occured despite the 1995 amendments to the Penal Code, which introduced severe punishment, including mandatory minimum jail sentences to those found guilty of rape and child abuse.
The trend in imposing suspended sentences for offences which according to the Penal Code (Amendment) Act No. 22 of 1995 made it mandatory for a minimum sentence to be imposed came after a Supreme Court determination in 2008.
It was in sequel to a reference made by the Anuradhapura High Court relating to a statutory rape case where an interpretation was sought on the mandatory minimum sentence under the 1995 Amendment to the Penal Code, LHRD Executive Director and senior attorney Kalyananda Thiranagama said.
The reference related to a High Court trial of an incident of sexual abuse that had taken place years ago where an accused and an underage victim were lovers. However the couple had later got married and was leading a successful married life. The Supreme Court had ruled that, "the High Court is not inhibited from imposing a sentence that it deems appropriate in the exercise of its judicial discretion notwithstanding the minimum mandatory sentence."
"However using this Supreme Court direction, lenient punishments and suspended sentences are imposed despite there being a 400 per cent increase in complaints relating to child abuse around the country," Mr. Thiranagama said.
He said the study had revealed that even convicts of gang rape of underage females including school children had been given suspended sentences by courts.
Through the Penal Code (Amendment) Act No.22 of 1995, a number of positive steps to protect children and women from various types of abuses were introduced.
Mr. Thiranagama said that these included the introduction of new offences which state that every person under 18 years of age is considered a child and increasing punishment meted out on offences committed against children.
He said that another important amendment to the law was the inclusion of the mandatory minimum sentence to convicts of rape and child molestation.
Some of the new amendments to the Penal Code included the imposing of rigorous imprisonment for a term not less than seven years and not exceeding 20 years and a fine for those who commit incest.
DM