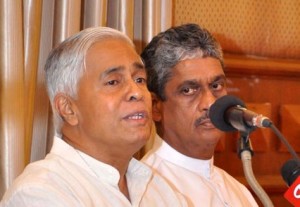 Former CJ Silva & Former Army chief Fonseka depended CJ
Former chief justice Sarath N. Silva said at a media briefing on Thursday that the legal procedure to impeach the Chief Justice was blatantly one sided and fundamentally flawed.
Mr. Silva told a press conference yesterday that this procedure for impeachment was blatantly one sided.
He said investigations into the allegations under the current standing orders were conducted by a Select Committee comprising seven MPs, of whom the majority would be from the government.
"The very people who brought the motion against the Chief Justice will be holding the inquiry against her — the result of which would be a foregone conclusion. The decision on this inquiry is also going to be taken by the very officials who sit in that committee and, obviously, it will be a decision which the President would want" he said

The former chief justice said that Justice Shirani Bandaranayake was left helpless due to the legal procedure.
This, he said, was because the standing orders stipulating the steps to be taken by Parliament to impeach a chief justice were a hurried list of steps brought forth by J.R. Jayawardena's government in order to impeach a former chief justice — Neville Samarakone.
Therefore, he said, the standing orders did not provide for the person who metes out justice to the citizens of this country a chance to be served justly.
"The sword of Damocles is now on the neck of the judiciary. There is no option for the Chief Justice but to follow the process, she has nowhere to go in order to seek justice. The very person who dispenses justice to the people has no place to seek justice" he said.
He said that Chief Justice Shirani Bandaranayake had been subjected to a vicious cycle of revenge.
He said that if there was any allegations against the current Chief Justice, there should have been an independent investigation into the allegations.
Former army commander Sarath Fonseka, who also participated, said he too opposed the impeachment motion as it was an attempt by the Executive to interfere with both the legislature and the judiciary. "What the Executive is doing today is using the legislature to fulfil the objective of taming the judiciary, he said.
He said people's power should be mobilised to bring about the independence of the judiciary and the legislature. "I shall fully support such a struggle though justice was not meted out to me," he said. (Yohan Perera and Hafeel Faiiz)