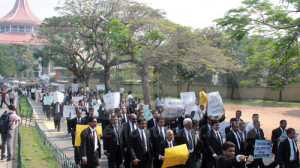 Lawyers protest in Colombo ( photo: Ceylon today)
The Island-wide lawyers' protest calling to protect the independence of judiciary was a hundred percent success, Bar Association President Wijeyadasa Rajapakshe said.
He said that most of the branches of the Bar Association Island wide participated in today's protest. He said some of the branches independently decided to stay way from courts whole day in protest, despite the Bar Association executive Committee Decision to hold the protest for one hour from nine to ten.

However, the Moratuwa Branch of the Bar Association did not participate in the protest, Bar Association Secretary Sanjaya Gamage said.
A lager number of protesting lawyers denounced the degradory treatment meted out to Chief Justice Dr. Shirani Bandaranayake before the Parliamentary Select Committee hearing her charges and they called for
a fair and transparent inquiry for the Chief Justice, in Hulftsdorp, Colombo near the Superior Court Complex.
The Bar Association Executive Committee met last Sunday and decided to stay away from courts island-wide for one hour from nine to ten.