Image courtesy of blogs.lse.ac.uk.
More data pours in on the accumulation of poverty in contemporary Sri Lanka.
"…at least 7 million Sri Lankans now living in poverty with 4 million of them having fallen into poverty since 2019…The research also found that poverty across all nine provinces has increased since 2019. 
The study found that the coverage of social safety nets was low across all programs including the Samurdhi benefit. 
LIRNEasia revealed that only 31% of the 10% of the poorest households receive Samurdhi cash transfers.
Estate communities continue to be the worst off with at least 51% of them continuing to live in poverty. 
Many households reduced their food consumption due to the economic crisis. 47% limited their portion sizes at meal times, 33% ate fewer meals a day, 27% restricted adult food consumption to allow children to eat," the report said…" (Only 40% poor among 1.7 million Samurdhi beneficiaries: LIRNEasia | Daily FT)
Another news report on the LIRNEAsia survey spotlights rural and urban poverty.
"…In the rest of rural Sri Lanka poverty has doubled from 15 to 32 percent from 2019 to 2023. 
In urban areas, which are densely populated, poverty tripled to 6 to 18 percent. 
About 32 percent of families had sold household assets and 50 percent had run down their savings… 
Another 6 percent did not send their children to school…" (EconomyNext)
Multi-dimensional crisis 
The situation is not 'normalising'. The large-scale social suffering is not 'normal'. We have not seen this in our lifetime.
"The multiple dimensions of the crisis in Sri Lanka have affected people in all walks of life," alerts the UNFPA's Sharika Cooray: 
'… "This is a multi-dimensional crisis," says Sharika. "…The household income has decreased causing severe impact…  With many experiencing losses of jobs, others struggle with a lack of increase in wages, impacting rising household expenses." 
The burden of managing households has become the responsibility of women. She says the crisis means anxiety within the household. With the economic and political turmoil, many men are unemployed and women are finding alternative jobs to supplement the household income. 
"…when men lose their jobs, they use their power to torment and control to vent their frustration. Women bear this brunt. These have a long-lasting impact beyond the crisis." 
… "What we hear from the shelters we support is that men who are not able to find employment are frustrated. The increase in use of drugs by men has further contributed towards higher risks of intimate partner violence and domestic violence which are very brutal in nature."
…With services stretched to the breaking point by the ongoing crisis, Sharika says… "Sexual harassment in public spaces has increased and there is a lack of law enforcement support to protect women and girls."
The country is going through collective trauma as families are struggling to plan for the next day or next week. "People's life savings have depleted and they are forced to earn for their everyday survival."
…The struggles to get by have left little time to reflect. "People do not have time to heal," she says… (UNFPA Asiapacific | Profile: Sharika Cooray, UNFPA Sri Lanka)
That is the larger social reality.
( Excerpts from the column "Social tragedy and suspended democracy in Sri Lanka" published in the Daily FT
Economy shrinks by 11.5% in 1Q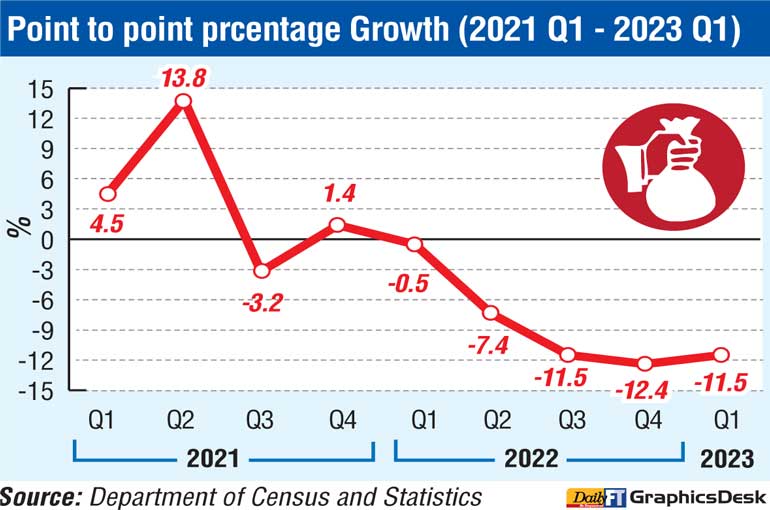 The economy had shrunk by 11.5% in the first quarter of this year marking three successive double digit contractions.
The Agriculture sector recorded an expansion of 0.8% while Industries and Services sectors recorded 23.4% and 5.0% negative growth rates respectively during this quarter from a year ago. Last year the economy suffered its worst contraction of 7.8%.
The Department of Census and Statistics said the Gross Domestic Product for Sri Lanka for the first quarter of the year 2023 at constant price (2015) has declined up to Rs. 3,114,187 million from Rs. 3,519,400 million which was recorded in the first quarter of the year 2022.
In the first quarter of the year 2023, the performance of the service sector has declined by 5.0% when compared to the 1.8% drawback of the same quarter of year 2022.
According to the quarterly review of this quarter, the 'Insurance services' and 'Financial service activities' have reported downturns of 38.3% and 33.2% respectively. Further, 'Programming and broadcasting activities' (28.7%), 'Real estate activities and ownership of dwelling' (18.3%), 'Human health services' (8.7%), 'IT programming consultancy and related activities' (7.2%), 'Professional services' (4.4%), 'Telecommunication' (4.0%) and 'Wholesale and retail trade' (1.1%) activities have reported negative growth rates.
Moreover, the activities of 'Accommodation, food and beverage serving activities' (5.2%), 'Postal and courier services' (4.3%), 'Educational services' (3.1%), 'Transportation of goods and passengers including warehousing' (2.8%) and 'Other personal services' (1.3%) have reported positive growth rates during the first quarter of 2023.
Performance in Agricultural Activities
In the first quarter of the year 2023, the agriculture activities have recorded an expansion of 0.8% when compared to the 4.4% of negative growth recorded in the same quarter in the year 2022.
The expansion in the agricultural activities were mainly driven by 'Growing of rice' (42.1%), 'Fresh water fishing and freshwater aquaculture' (16.9%), 'Growing of cereals' (13.0%), 'Agriculture supporting activities' (10.3%), 'Growing of spices' (8.8%) 'Plant propagation' (6.7%) 'Growing of fruits' (4.4%) and 'Growing of vegetables' (1.5%). However, some agricultural economic activities such as 'Forestry and logging' (25.5%), 'Animal Production' (11.9%), 'Marine fishing and marine aquaculture' (9.2%), 'Growing of tea (7.6%), 'Growing of oleaginous fruits' (4.8%), and 'Growing of rubber' (0.8%) have recorded negative growth rates in this quarter.
Excerpts from News item "Economy shrinks by 11.5% in 1Q" published in Daily FT