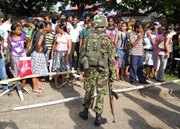 FTZ protest suppressed
Michael Delaney, Assistant United States Trade Representative for South and Central Areas Affairs, yesterday (14) told journalists in Colombo that significant progress has been made to improve labour rights in the country.

Labour unions here and in the US have petitioned the government to withdraw GSP concessions to Sri Lanka based on rampant violations to labour rights.
"My visit to Colombo was an opportunity to continue consultations with the Government of Sri Lanka on the outstanding workers rights petition on Sri Lanka under the U.S. Generalized System of Preferences (GSP) program," Delaney said.
"Over the past few years, we have had very useful and productive discussions with the Government and other Sri Lankan stakeholders on worker rights issues, including those raised in the petition.
"The GSP petition was one of the topics discussed during Foreign Minister Peiris's visit to Washington last month. My visit here allowed me to follow up on those discussions and to learn more about what the Government and other stakeholders have done in recent months to improve the worker rights environment.
"We are pleased to note that there has been significant progress on several issues raised in the petition. For example, the Sri Lanka Board of Investment has established trade union facilitation centers in each of the three largest export processing zones – something the trade unions had sought.
I learned more during this trip about this and other developments and will take this information back to Washington so that we can factor it into our ongoing review of the GSP petition. The review of the petition is at an advanced stage and we are hopeful that we will be able to move toward final disposition of the petition in the near future. We greatly value our relationship with Sri Lanka . We look forward to strengthening that relationship through increasing trade and investment in the coming years," Delaney said.
IS