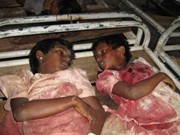 100 Mullaivaikal ! by Ranawaka
A controversial remark reportedly made by Sri Lankan Minister for Power and Energy, Champika Ranawaka has touched a raw nerve in Tamil Nadu. In a fax to Prime Minister Manmohan Singh, DMK Chief Karunanidhi says the minister "threatened that one Mullaivaikal was enough and that no one should try to get hundred more".

Mullaivaikal is a seashore area in Sri Lanka where human rights groups estimate 40,000 Tamil civilians were massacred in the final months of the island's civil war in 2009. Rebel Tamil Tiger chief Prabhakaran was killed at a nearby lagoon. The minister's remark is being seen as a veiled threat.
The Lankan cabinet Minister's speech, his supporters say was in response to another speech by R Sampanthan, leader of the Sri Lankan Tamil National Alliance (TNA), in which he had reportedly said: " We must have unrestricted authority to govern our own land, protect our own people, and develop our own economy, culture and tradition. A meaningful devolution should go beyond the 13th Amendment to the Constitution. If the Sri Lankan state continuously denies this right, we will claim our right under international law to external self determination".
Sri Lanka need not fear Kudankulam N-plant: Nuclear chief to NDTV
Mr Karunanidhi has asked the Prime Minister to take up this issue with the Lankan Government. He claims the minister's remarks "are provocative and therefore condemnable."
In March this year, the UN Human Rights Council adopted a resolution urging Sri Lanka to investigate alleged abuses during the final phase of war against the LTTE. Although earlier India was reluctant to support the motion against Lanka, ultimately it buckled under pressure from its southern ally, the DMK. All parties in Tamil Nadu frequently stand up for Sri Lankan Tamils, who were discriminated against for years as a minority.
Following his party's huge defeat in the state elections last year, Mr Karunanidhi re-launched the Tamil Eelam Supporters Organisation (TESO) to campaign for a separate state for Tamils in Sri Lanka. He's hosting the TESO conference in Tamilnadu's Villupuram district on August 5. His letter to the Prime Minister is seen as an attempt to build momentum for his movement.
Reported by Sam Daniel, Edited by Janaki Fernandes
NDTV