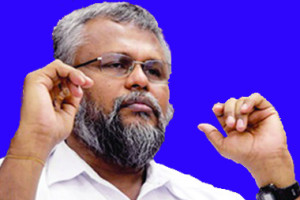 Sri Lankan minister Douglas Devananda was involved in a murder case and hence has to face trial, the state government informed a sessions court on Wednesday. The state, represented by the inspector of police, Choolaimedu police station, filed a counter to the petition by Devananda, which sought to recall the NBW issued against him and permit him to attend proceedings through video conferencing.

"Douglas is required to surrender before the court for recall of the warrant. Douglas never had the intention to appear before the trial court and in case of the court deciding that the offences are proved against him, securing him would be near impossible," the counter said.
The IV additional sessions judge S. Rajagopalan posted to September 20 further hearing of the case.
The police said Douglas and nine others were charged for the offences under section 147, 148, 149, 307 and 302 of IPC read with section 3 and 27 of the Indian Arms Act, and section 5 of the Explosive Substances Act. As the accused failed to appear before the trial court from June 18, 1990, NBW was issued against him and then proclamation was issued by an order of the court dated June 30, 1994.
Douglas challenged that order in 2010 and the high court dismissed it. He filed an anticipatory bail petition before the high court that was dismissed as withdrawn with liberty to him to surrender before the trial court and seek recall of warrant. However, after one year and five months, he has approached the court for recalling the warrant and dispensing with his appearance. The Indo-Sri Lanka pact has got nothing to do with the crime committed by Dougas in India during his stay .
DC