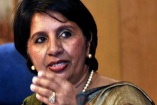 Nirupama Rao.
Lanka war crimes: Govt can't sit quiet, says Jaswant Singh•Lanka war crimes: Briton arrested in connection with Channel 4 video•Documentary on Sri Lankan war crimesThe Indian government has had nothing to say for the last four days on the gross violation of human rights in Sri Lanka.
Four days after Headlines Today aired chilling evidence of Sri Lankan army's atrocities against Tamils, India has maintained a defeaning silence. Meanwhile, Colombo claims the atrocities were committed by the LTTE fighters.
Chilling evidence of crimes against humanity was aired by Headlines Today on Thursday night. The Channel 4 documentary, Sri Lanka's Killing Fields, presents perhaps the most disturbing images ever shown on any TV channel.
The images clearly proved that war crimes of the worst kind were committed against the Tamil rebels in Sri Lanka by its armed forces in the culmination of the civil war two years ago.
However, despite the glaring evidence, India's Ministry of External Affairs has avoided reacting to it.
When asked for her reaction on the video footage, Foreign Secretary Nirupama Rao said, "I will not comment on this matter."
Asked if the Indian government has failed in its response, former external affairs minister Jaswant Singh had told Headlines Today on Friday, "The government must act constitutionally and politically. No government can afford to sit on the fence."
The UN report on Sri Lanka had recommended an international investigation, but the Sri Lankan government has done nothing.
Former UK foreign secretary David Miliband had also said that the report was shocking and that Sri Lanka must allow international probe into the war crimes. "There is a need to give Lanka a deadline to look into the war crimes and see to it that the deadline is fulfilled," Miliband told Headlines Today on Friday.
Lankan military spokesperson Maj Gen Ubaya Medawale maintained there was "no need for international probe".
"The video, done by individuals who come from the ranks of refugees spread over different parts of Lanka seeking international assistance, is fake," Medawale had said on Friday.