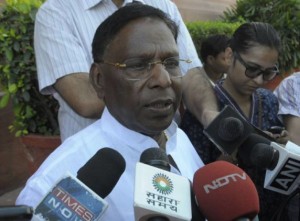 V Narayanasamy: India will vote
Chennai: India would support any resolution brought forward by United Nations against Sri Lanka if the island nation does not honour recommendations of the world body on human rights issues, Minister of State in the PMO V Narayanasamy said here on Sunday.
"When United Nations brought forward a resolution against Sri Lanka, India voted for it. If UN's recommendations are not honoured by Sri Lanka, India will support any resolution brought by it against the island nation," he told reporters.
Observing that the Centre was always for protecting Sri Lankan Tamils, he noted that powers were given to them through the Rajiv Gandhi-Jayawardene accord. "But Rajapaksa is not accepting them now.
"India is taking steps to get powers for Sri Lankan Tamils. That's why India is taking a neutral stand. Not like some Tamil parties and Tamil Nadu government, which take decisions and pass resolution without thinking…," he said.
To a query over the delay in execution of Afzal Guru, he said the Centre had executed 26/11 convict Ajmal Kasab after following due procedures and after his mercy petition was dismissed by the President.
"Likewise, in the case of Afzal Guru, we had to follow procedures and he was executed after his mercy petition was rejected by the President."
To another query on the next general elections, he said "Congress will complete its term and will face the 2014 polls. Congress will come to power in the elections."
PTI