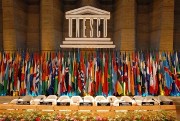 Sri Lanka has called for international support to stop the transformation of the United Nations Educational, Scientific and Cultural Organization (UNESCO) following what it terms as the politicization of the UN agency.
Sri Lanka's Ambassador to Paris Dayan Jayatilleka said that UNESCO has been transformed from a subject into an object and the institutional spaces for thinking within UNESCO have also been dismantled.

The Ambassador said in a statement that UNESCO has been and is being gradually lobotomized and the international community has done nothing so far to challenge this.
"UNESCO is been transformed and is sought to be transformed into a soft power accessory, an auxiliary of the hegemonic centers and ideologies. This is why UNESCO identified itself uncritically with the one dimensional conception of the Arab Spring: not a critical one, not a dialectical one, not a deep thinking reflection but precisely a one dimensional conception," he said in the sattement.
He said that the international community must stop the transformation of UNESCO into a mere conduit and disseminator of hegemonic ideologies which also appropriate notions of Human Rights and distort them as part of an interventionist project.
He also called for closer, structured cooperation between G77, China and the Non Aligned Movement within UNESCO.
"There is surely an overlap but there has to be closer structured liaison and coordination," the Sri Lankan Ambassador said.
He further said that UNESCO was once at the forefront of the battle for a new international information order and he called on the international community to reexamine or reintroduce into the agenda the theme of information and its unequal sources and structures
CG