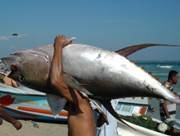 An attempt by Britain to blacklist Sri Lanka's fish exports to the European market was averted after the government made a pledge to comply with international industrial regulations and other standards, a senior government official said yesterday.

Sri Lanka's fish exports to European Union countries make up some 68 per cent of its total fish exports, bringing in Rs. 22 billion annually. The remaining 32 per cent is sent to the United States, Japan and other non-EU countries.
The pledge was made at the 16th session of the Indian Ocean Tuna Commission (IOTC) held in Freemantle, Australia after Chagos Islands — the British Indian Overseas Territory (BIOT) — complained of illegal poaching by Sri Lankan fishermen and sought to put the country on the blacklist thereby blocking out sales to the EU, Fisheries Secretary Damitha de Zoysa told the Sunday Times.
BIOT officials claimed that since there had been repeated instances of poaching by Sri Lankan fishermen and the government had failed to address this issue, Sri Lanka should be placed on the Illegal Unreported Unregulated (IUU) list, Dr. Zoysa said. The reaction by Britain followed the arrest last year of two Sri Lankan multi-day fishing vessels while poaching in BIOT waters. Earlier, more than ten Sri Lankan vessels had been found to be poaching.
"The 24-member IOTC was annoyed that we were yet to comply with the international regulations despite several complaints of poaching by Sri Lankan fishermen. We were able to save the day by pledging to comply with the IOTC requirements that included installation of a Vessel Monitoring System (VMS) on each boat. That will indicate its location while out at deep sea."
The IOTC was also unhappy at the delay in enacting legislation that would make it mandatory for every Lankan multi-day fishing vessel to install the VMS. Sri Lanka was urged to work towards this end at the earliest, Dr. Zoysa said. She was later elected as Vice-Chairperson of the Compliance Committee of the IOTC.
She also conceded that Sri Lanka had delayed in taking action against earlier offenders and in drawing up the Act which was currently before a Technical Committee.
"Despite getting a respite from the IOTC, Sri Lanka continues to be on the Provisional IUU list which means we are still not out of the storm. The IOTC has given us two months' time frame for compliance," Dr. Zoysa added.
By Leon Berenger
ST