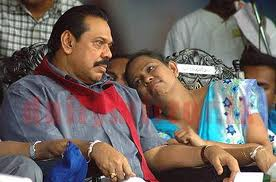 Minster Pavitra with Prez MR
The Government claims the United States and British Governments are influenced by the votes they receive from LTTE supporters in their respective countries. Power and Energy Minister Pavithra Wanniarachchi, speaking at an event today, claimed that US President Barack Obama and British Prime Minister David Cameron had secured votes from LTTE supporters to come to power. She claimed that now Obama and Cameron are working according to the agenda of the LTTE supporters against the Sri Lankan Government.

"There are some legislators who were elected in those countries through LTTE votes," the Minister claimed.
She also claimed that Cameron had sent letters to some countries seeking their support for the resolution on Sri Lanka at the UN Human Rights Council in Geneva.
Wanniarachchi accused Cameron and Obama of attempting to revive the LTTE in Sri Lanka following the end of the 30 year war.
However she said President Mahinda Rajapaksa will not allow the LTTE to raise its head in Sri Lanka with the support of any international force.
She claims only opposition UNP leader Ranil Wickremesinghe will allow the LTTE to resume its war in Sri Lanka and the international community is aware of that. (Colombo Gazette)