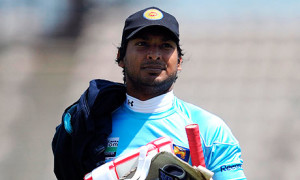 • Former captain uses MCC Spirit of Cricket lecture for speech
• 'Players became involved in power games within the board'
Kumar Sangakkara has chosen the MCC Spirit of Cricket lecture to launch a scathing attack on the endless political power-struggles that bedevil Sri Lanka Cricket and to reflect upon the heavy responsibilities on Sri Lankan cricketers to promote reconciliation after the end of the civil war that blighted the country.

Sangakkara, in a hugely impressive speech scribbled out during occasional spare hours during the one-day series against England, provided a vivid explanation that will go a long way to explaining why he resigned from the captaincy after Sri Lanka's defeat in the World Cup final, exhausted after only two years in charge. He described how, since Sri Lanka's 1996 World Cup victory, their cricket administration had changed "from a volunteer-led organisation run by well-meaning men of integrity into a multimillion-dollar organisation that has been in turmoil ever since".
His criticism could hardly have been more pointed. "Players from within the team itself became involved in power games within the board," he said. "Officials elected to power in this way in turn manipulated player loyalty to achieve their own ends. At times board politics would spill over into the team causing rift, ill feeling and distrust.
"Accountability and transparency in administration and credibility of conduct were lost in a mad power struggle that would leave Sri Lankan cricket with no consistent and clear administration. Presidents and elected executive committees would come and go; government-picked interim committees would be appointed and dissolved.
"After 1996 the cricket board has been controlled and administered by a handful of well-meaning individuals either personally or by proxy rotated in and out depending on appointment or election. Unfortunately to consolidate and perpetuate their power they opened the door of the administration to partisan cronies that would lead to corruption and wonton waste of cricket board finances and resources.
"It was and still is confusing. Accusations of vote buying and rigging, player interference due to lobbying from each side and even violence at the AGMs, including the brandishing of weapons and ugly fist fights, have characterised cricket board elections for as long as I can remember.
"We have to aspire to better administration. The administration needs to adopt the same values enshrined by the team over the years: integrity, transparency, commitment and discipline.
"Unless the administration is capable of becoming more professional, forward-thinking and transparent then we risk alienating the common man. Indeed, this is already happening. Loyal fans are becoming increasingly disillusioned. This is very dangerous because it is not the administrators or players that sustain the game – it is the cricket-loving public. It is their passion that powers cricket and if they turn their backs on cricket then the whole system will come crashing down."
Sangakkara also responded to the knots of Tamil protesters who have used the Sri Lanka tour to demonstrate against the presence of the Sri Lanka team in England. He told of his childhood and how his father had protected Tamils from "politically motivated goon squads" during the riots of 1983 that sparked the long civil war, a period in which "the terrible race riots of 1983 and a bloody communist insurgency amongst the youth was to darken my memories of my childhood and the lives of all Sri Lankans".
"The early 1980s was dominated by the escalation of militancy in the north into a full-scale civil war that was to mar the next 30 years. I recollect now the race riots of 1983 with horror, but for the simple imagination of a child not yet six it was a time of extended play and fun.
"I do not say this lightly as about 35 of our closest friends, all Tamils, took shelter in our home. They needed sanctuary from vicious politically motivated goon squads and my father, like many other brave Sri Lankans from different ethnic backgrounds, opened his houses at great personal risk."
A generation on, Sangakkara said that responsibilities rested heavily on the Sri Lanka team. "Cricket played a crucial role during the dark days of Sri Lanka's civil war, a period of enormous suffering for all communities, but the conduct and performance of the team will have even greater importance as we enter a crucial period of reconciliation and recovery, an exciting period where all Sri Lankans aspire to peace and unity.
"It is also an exciting period for cricket where the reintegration of isolated communities in the north and east opens up new talent pools.
"The Spirit of Cricket can and should remain a guiding force for good within society, providing entertain and fun, but also a shining example to all of how we all should approach our lives."