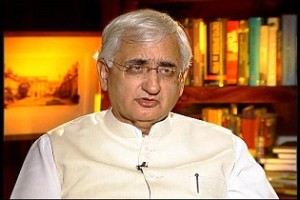 Salman Khurshid
External Affairs Minister Salman Khurshid
will represent India
at the Commonwealth Heads of Government (CHOGM) summit, though the Tamil Nadu Assembly unanimously passed a resolution urging boycott of the meeting because of human rights abuses in Sri Lanka.
In a television interview, Mr. Khurshid confirmed his participation in next month's meeting; but there is still a question mark over who among the three VVIPs will attend the summit: President Pranab Mukherjee; Prime Minister Manmohan Singh; or Vice-President Hamid Ansari. Or whether Mr. Khurshid himself will lead the Indian delegation.
However, government sources said India was unlikely to follow Canada, which has decided to go unrepresented at the meeting on the grounds that Sri Lanka has not done enough to address allegations of human rights abuses by its security forces during the war against the LTTE. "I can say I will be there. The issue of Sri Lankan Tamils remains important to us," Mr. Khurshid told Times Now. Asked whether the Prime Minister would go to Colombo, Mr. Khurshid said a decision would be taken at the right time.
Mr. Khurshid indicated the thinking in South Block over India's participation at the meeting, pointing out that it was not a bilateral meeting but a multilateral forum. India's absence would be conspicuous.
"By not engaging with Sri Lanka, India will be losing out. Even if it means raising…the Tamil fishermen issue. How can India do it without engaging?" Sri Lankan Foreign Minister G.L. Peiris expressed his country's preference for India to be represented by Dr. Singh when he visited New Delhi in August to hand over the invitation.
He denied the charge that Sri Lanka lagged in rehabilitation and resettlement, arguing that Colombo's record was far better than that of some post-conflict societies such as Cambodia and the former Yugoslavia. The sources also dropped several other hints on India's preference. The first is the recent election, with enthusiastic participation, in the Northern Province. New Delhi would like other interested parties to give the Tamil National Alliance Government (TNA) space to negotiate greater political autonomy with Colombo. This was hinted at by Mr. Khurshid too. "The TNA swept [the polls]. There needs to be an acknowledgement of that."
The second is Mr. Khurshid's visit to Jaffna earlier this month. There, he reviewed the work being done by Sri Lanka with considerable outside assistance, including India's, in a host of areas to normalise the situation.