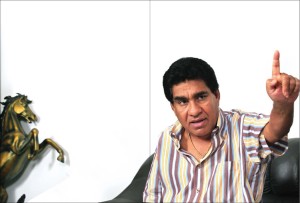 Minster Mervyn widely suspected local politician?
Kelaniya Pradeshiya Sabha Chairman Prasanna Ranaweera said today that there had been repeated death threats made to him and 12 other members of his council for more than a year, at the instigation of a local politician.
The Chairman said that after Pradeshiya Sabha member Hasitha Madawala was killed, he had even complained to the Inspector General of Police and all other persons concerned. Commenting on the shooting incident, he said that the members of his council had to endure many difficulties in addition to death threats.

"We were sometimes harassed on false complaints. We were even taken to court by the police on such complaints. They tried to imprison the slain member on one occasion. We are not responsible for burglaries, nor are we involved in drug peddling. The people are aware of our innocence," he said.
He said, "We ask the President not to leave room for the fate that befell Mr. Madawala to befall us."
Meanwhile, President Mahinda Rajapaksa had contacted Mr. Ranaweera this morning and assured him of impartial inquiries. He also assured him that those responsible would be brought to book irrespective of their positions. (Lal S. Kumara)
DM