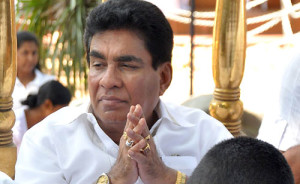 Suspected Minister portrayed himself as a good Buddhist
Kelaniya killing: Mervyn's secy, two aides among five arrested
The Criminal Investigation Department (CID), probing last Saturday night's killing of Kelaniya Pradeshiya Sabha member Hasitha Madawela, arrested five suspects, including the alleged assassin, yesterday. The police identified the gunman as an aide to Public Relations Minister Mervyn Silva
According to sources, among the suspects arrested were Minister Silva's parliamentary affairs secretary and a coordinating officer.

Sources said that the alleged assassin and the parliamentary affairs secretary were close relatives.
Police Spokesman SSP Prishantha Jayakody told The Island that the chief suspect had been arrested at the Bandaranaike International Airport when he was about to leave the country.
The investigators have recovered an Italian made 9 mm pistol which was used in the killing. They also recovered the motorcycle used by the killer and his accomplice.
According to SSP Jayakody, the police had recovered a T-81 assault rifle along with 46 rounds of ammunition.
The Island made several attempts to contact Minister Mervyn Silva, but he was not available.
Hasitha Madawala was shot dead, outside his residence at Waragoda, on Saturday night by an unidentified gunman, who arrived on a motor cycle.
He succumbed to his injuries before admission to the National Hospital.
The Scene of Crime Officers (SOCO), who visited the scene soon after the killing, recovered five empty bullet casings fired from a 9mm pistol. It had been established that three of the bullets had hit Madawala.
Sources said that the assassin had vowed to finish off Madawela following a dispute between his mother and the Pradeshiya Sabha member. Sources said that Madawela had chased the assassin's mother from his office after she sought his intervention to settle a dispute with the Chairman of the Kelaniya Pradeshiya Sabha. The assassin said that Kelaniya Pradeshiya Sabha Chairman had assaulted his mother and Madawela did nothing to protect her.
By Dasun Edirisinghe and Hemantha Randunu
IS
Weapons seized from Mervyn's Kelaniya office
Police have seized weapons from a house said to be serving as minister Mervyn Silva's SLFP office at Nunnangoda in Kelaniya.
From the premises, the CID found four hand grenades, six swords, three kris-knives and four iron bars each about four feet in length.
The owner of the building has said it has been given for the use of minister Silva.
The raid came a day after the minister's coordinating officer and three others were arrested in connection with the killing of Kelaniya Pradeshiya Sabha member Hasitha Madawala.
Mervyn responsible for Madawala murder
The JVP has said minister Mervyn Silva was responsible for the killing of Kelaniya Pradeshiya Sabha member Hasitha Madawala.
Speaking to the media today (Jan. 09), party MP Vijitha Herath said people of Gampaha knew about the enmity between minister Silva and Kelaniya PS members.
Following a strong outcry by the people, several supporters of the minister were arrested in connection with the killing.
However, the government is now trying to justify it by saying it was due to a personal dispute, under its policy of state terrorism, said the JVP MP.
SLM